My name is Molly, I'm a shih-poo, a cross between a
shih-Tzu
and poodle, but I just like to say I'm Tibetan and French it sounds better if you know what I mean. I'm still a pup I guess, because that's what I hear all the time, "oh, how old is she, she acts just like pup."
I'm looking for a green environmental dog house preferable with solar roofing and bamboo floors. I would like a deck running along the front of the house because I love l to just sit and watch the birds and listen to the crickets. I'm a good watch dog.
In the meantime, I have a really nice house my mom and I live in and I sleep with her every night since I was born, I like it that way.
My mom is a singing teacher; she loves to sing too, my job is to greet all the students at the door and to make them comfortable before they start their lessons. So I jump in their laps and lick their faces. I'm pretty tried by the end of the day.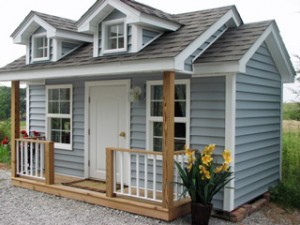 Photo courtersy of Doggy Dream Homes
All we need are solar panels on the roof and it'll be just what Molly wants.
Mom and I are so close that she hardly goes anywhere without me, we have been kicked out of a lot of places.
I love to play tricks on mom and when she is sitting at the computer playing Mafia Wars, on Facebook, I get bored. I start talking to her, I speak englis, she thinks I want to go outside because she isn't paying attention so she gets up from the computer, but I just want her to chase me around the house and play ball, this always makes her laugh so hard.
My most favorite times ever is when we take our road trips to the town of Sonoma. Boy do I have a ball because dogs are welcome everywhere, I see and do things that I have never seen in my life before. I heard a dog say "being here is just like living in France." Wow, I was impressed!
Story by Louise DeLucchi
Send us a picture of your dog and a little story and we'll post on this website. Send your information to: E-mail Angel
If you are looking to buy or sell a home E- Mail John O'Dell