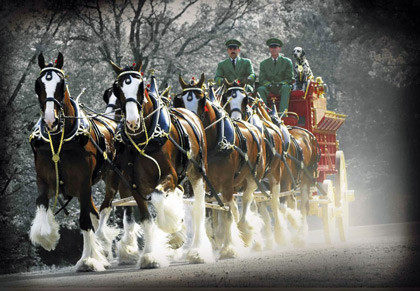 The world famous Budweiser Clydesdales will be at this year's Nevada County Fair, August 12 – 16. This magnificent team of horses will be available in the livestock area for viewing each day of the Fair, during regular Fair hours.
The first team of Clydesdales arrived at the Anheuser-Busch brewery on the heels of Prohibition's repeal by Congress; they were a gift to St. Louis beer maker August A. Busch from his son. In April 1933, the team first thundered away from the brewery carrying cases of beer. Since then, the prancing team and their red, white and gold beer wagon have become one of the world's most recognized advertising symbols.
The Budweiser Clydesdales are a continuing reminder of the work Draft Horses performed in the earlier days of our country's growth.
The Nevada County Fairgrounds extends their thanks to NorCal Beverage Company for their support in bringing the Budweiser Clydesdale Hitch to the 2009 Nevada County Fair and for serving as a Premier Fair Partner.
This year's Nevada County Fair, "A Hare's Magical A-Fair," is August 12 – 16. For information about special contests, ongoing entertainment, and demonstrations, visit Nevada County Fair
For amazing Draft Horse performances, the Fairgrounds also hosts the 23rd annual Draft Horse Classic and Harvest Fair, September 24 – 27, at the Nevada County Fairgrounds. For tickets or information, visit us at Nevada County Fair or call (530) 273-6217.