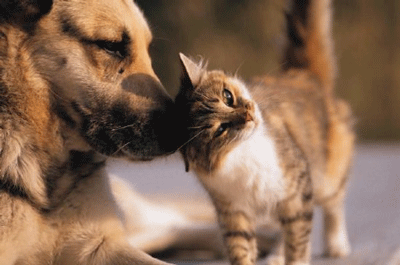 By Lisa J. Lehr
Perhaps you've just bought your first home, and for the first time ever you have an opportunity to adopt a pet. Or perhaps you've had a dog or a cat and are wondering if the other kind of pet would work for you. So which is better: dog or cat?
Consider the following questions.
How much space do you have?
Big dogs need space. Except for very senior dogs, they need a yard to run around in, or to be walked regularly. An under-exercised dog is likely to have behavioral problems, and you're likely to be looking for a new home for him soon. Cats do just fine indoors (in fact they are much safer there), although several cats in a small apartment may feel crowded.
How close are your neighbors?
This question has to do with how much your pets are going to bother your neighbors. Barking dogs quickly make their owners unpopular. True, so do cats who dig and hunt in other people's yards, but you can (and should) keep your cats indoors except under supervision. A barking dog can be heard over a significant distance.
How much maintenance do you want to do?
Dogs need to be walked, groomed, and usually fed on a schedule. Cats normally don't. You may enjoy these jobs or be happy to pay someone else to do them. Just make sure you have a plan.
Which kind of "bathroom duty" do you prefer?
If your dog "goes" in your yard, you need to shovel it up before someone steps in it. If he "goes" while you're out for a walk, you'll need to bag it and bring it home to your garbage can. If your cat uses a litterbox, you'll have to change it. (Some cats can be taught to use the toilet, but letting your cats roam freely outdoors just to avoid litter box detail is not responsible pet ownership.) So which one of these jobs is the least distasteful to you?
Do you want to be tied to a feeding schedule?
Cats are much more amenable to having a food bowl left out twenty-four-seven. Dogs are likely to either eat it all at once, or, if you leave for the day (or more), hoard it (not eat it at all), not knowing when you're going to return to put out more food. Some dogs, however, are good at self-feeding, so if you'e adopting an adult dog, you may be able to select one who is.
Are you prepared to teach your dog to respect your property?
Yes, cats do claw the furniture and bite things. But the amount of damage a cat is likely to do is not in the same league with what dogs often do. We hear stories of dogs who shred the couch, dig a hole in the carpet, break a window to get out, chew up an entire wardrobe of shoes, etc. Cats are rarely guilty of these things.
Finally, lots of pets are in need of homes with puppy and kitten season. In addition, due to the poor economy, many people are abandoning their pets which often end up in shelters.
Lisa J. Lehr is a writer and copywriter as well as animal lover living in Grass Valley. She can help you promote your business with a full range of online and offline marketing pieces. A member of Empire Toastmasters, she's available to speak to your business or professional group. Visit her website www.justrightcopy.com for more information, opt in for a message series, and receive a free Marketing Guide.