This post was written by
jd
on March 29, 2009
Posted Under:
Real Estate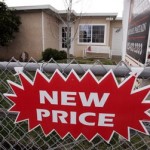 According to an article in the San Francisco Chronicle today, home prices in the Bay Area have dropped dramatically since its peak in spring 2007.
Spring 2007, median Bay Area home sale price $720,000
February 2009, median Bay area home sale price $295,000
The large drop in home prices is the result of more than half the homes sold in January and February were foreclosures, compared to two years ago when only about 2.6 percent were foreclosures. This drop in home prices has created a surge of buyers. Among those buying, first time home buyers with an incentive of an $8,000 Federal tax credit to savvy investors who are buying to rent and waiting for the appreciation of home prices which will surely come.
According to the SF Chronicle:
"A Chronicle analysis of sales data from MDA DataQuick, a San Diego real estate research firm, indicates that the majority of local buyers are either first-time homeowners or investors taking advantage of the huge glut of fire-sale-priced distressed properties – bank-owned foreclosures, short sales and homes surrounded by foreclosures and short sales.
"At least two-thirds of the market is split between investors and first-time buyers," said LePage. "The balance is mainly the people who have to buy because of a new job or other life events."
Many homes here have returned to the realm of reasonable prices, with the median sale price hovering below $300,000. That means that even people with incomes around the Bay Area's median of $80,000 or so can find properties within their price range. "
An increasingly larger share of the buyers are investors. They've either made the calculation that, for the first time in years, they can make money by renting out the properties, or they think they can re-sell them at a profit. "
I agree with the investors, real estate prices will come back. In 1982 when the Savings and Loans crashed, people were saying, real estate prices will never come back. I say, history repeats itself.