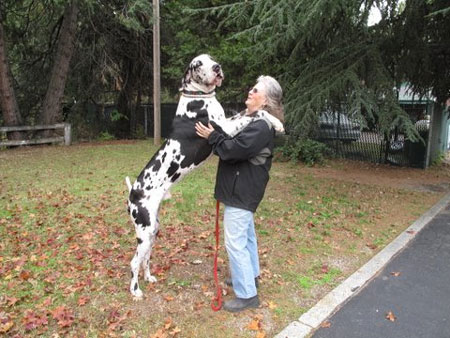 I happened to be walking directly across the highway from my office in Cedar Ridge to the dog groomers to see if I could get an appointment to have my dog Angel get her nails trimmed. Sandy Hall, famous for owning the tallest dog in the world happened to be there and I asked her if I could take a picture of her latest dog Brewster.
Sandy owned Gibson, who stood 42.6 inches tall, measured from the ground to the top of his shoulders and measured 7 feet 1 inch all stretched out and standing on his hind legs. He weighed 180 pounds. Gibson passed away on August 7 of this year due to bone cancer.
The dog in the picture is the latest dog that Sandy owns and is only 14 months old. Sandy says the dog will continue to grow until he is three years old. He weighs in at 140 pounds right now and as you can see in the picture, is pretty darn tall already.
Sandy is very determined to raise money to help fight canine bone cancer and is working with an organization called Morris Animal Foundation.
For more information about Gibson go to Gibsondog.com  and for PiMorris Animal Foundation go to  Morris Animal Foundation
Site was corrected November 23, 2009 Sorry about that Sandy!