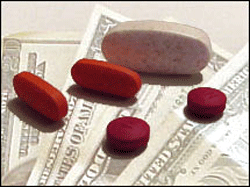 I always wonder when I travel to another country why proscription drugs are so much cheaper than here in the States.  Here's one of many reasons drug companies get by charging so much. They spend their money cooking ways to stifle competition, along with full page ads in magazines and TV ads.   Here's the settlement details by the California  State Attorney's General office for blocking of generic drugs.
"Oakland-Attorney General Edmund G. Brown Jr. and 23 other state attorneys general today announced a $22.5 million settlement with pharmaceutical giants Abbott and Fournier after the companies "illegally blocked" cheaper generic substitutes for the cholesterol-reducing drug Tricor.
The settlement is the result of one of the country's first legal actions challenging pharmaceutical companies for "product hopping," a strategy to block generic competition by making slight changes to the formulation of a drug.
"Abbott and Fournier devised a complex scheme that illegally blocked cheaper generic drugs from entering the market," Brown said. "They used minor reformulations of the drug to delay competition and filed frivolous patent lawsuits. This scheme cost California and other states millions of dollars."
Beginning in 1998, Abbott and Fournier, two of the nation's largest pharmaceutical companies, partnered to manufacture and distribute Tricor, a cholesterol-reducing drug. Tricor's annual sales were in excess of $750 million.
By 2002, as Tricor's patents were set to expire, several drug companies sought approval from the Food and Drug Administration (FDA) to market a generic drug equivalent to Tricor. To be approved by the FDA, the generic-drug manufacturer must prove that its drug has the same active ingredients and the same labeling as the brand-name drug, in addition to being a therapeutic equivalent of the brand-name product.
Once a generic drug is approved for market, the market share for a brand-name drug like Tricor can decrease by up to 80 percent. Most states and group health plans require pharmacists to substitute the generic drug for a brand-name drug to get the cost benefit of the cheaper generic version.
Knowing generic manufacturers were attempting to enter the market, the lawsuit alleged that Abbott and Fournier devised a complex scheme to delay and prevent the approval and marketing of generic versions of Tricor. The companies made minor changes in the form and dosage strength of Tricor that did not provide any significant health benefits over previous Tricor formulations. These minor changes interfered with and delayed any FDA approval of the generics.
To further delay the process, Abbott and Fournier also filed more than a dozen lawsuits against generic drug manufacturers Teva Pharmaceuticals and Impax Laboratories because the law prohibits the FDA from approving a generic drug for 30 months after patent-infringement lawsuits have been filed. After the 30-month automatic stays expired, all of the suits were eventually dismissed.
As a result of the scheme, Abbott and Fournier recorded Tricor sales exceeding $1 billion at the expense of consumers and state governments.
Today's settlement agreement requires the companies to cease illegal efforts to block generic competition to Tricor and to pay the states approximately $22.5 million dollars. In California, the Department of General Services, Medi-Cal and the Department of Corrections will be reimbursed for overcharges.
States joining California in today's lawsuit include: Arizona, Arkansas, Connecticut, District of Columbia, Florida, Iowa, Kansas, Maine, Maryland, Minnesota, Missouri, Nevada, New York, Oregon, Pennsylvania, South Carolina, Washington, and West Virginia."
Source Office of Attorney General