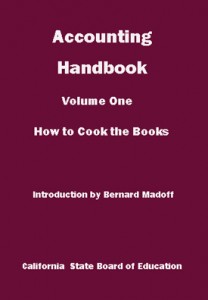 It seems that the California Department of Education has taken a leaf from Wall Street and AIG. Let's keep the bad CEO's which in this case are superintendents and their staff, layoff school teachers, and then cook the books on the rate of dropouts in the State's high schools.
By using Wall Street techniques and new math, they claimed that the overall dropout rate for California dropped from 21.1 percent to 20.1 percent in 2008. But they noted only 68.3 percent graduated! The best guess is that the other 11 percent of students went into an equivalent of an offshore account where they were given a triple A rating.
Calling this unsecured account a derivative, they may somehow have become an asset instead of a liability.
It is my understanding that this account will be sold for additional funding for employing more staff for the management team and the administration.
In further accounting maneuvers, just a few months ago, they raised the high school dropout rate from 12 to 24 percent. Wall Street would indeed be proud of this administration.
By the way, according to the 2007-08 report from the National Education Association we spend more than $300,000 annually for each classroom of 25 students. My daughter is a school teacher and she has to buy paper and pencils for her students.
You know why? 75% of that money goes to salaries, benefits, administration and other overhead costs. That's $9,000 per student or $225,000 per classroom per year for overhead. Now you know why they can't provide pencils and paper.
Quoting the Visalia Times-Delta
""While enrollment has dropped by 70,000 in the last four years, the Department of Education (actually the districts themselves do the hiring) used its increasing funds to hire just 3,800 additional teachers while adding 15,600 more nonclassroom employees between 2004 and 2007. Our schools must have a reliable stream of funding, but it should be based on actual enrollment needs."
Did you get that, they hired 76% more overhead then they did teachers. Yet, every time they cut the state budget for schools they lay off—teachers.
If you think this needs to be fixed, let your favorite politician know what's going on.