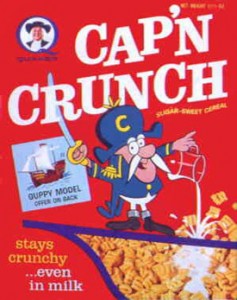 Harold Hewell, representing a California woman who filed a lawsuit on her behalf claiming that she was deceived into buying Cap'n Crunch cereal during a four-year period. Why, because she thought the "Crunch Berries" in the cereal, were get this, real fruit. Hummm, have you heard of a crunch berry bush? Or maybe she thought it grew on trees or in a bog?
According to Sacramento's Channel 10:
"Janine Sugawara filed a class-action suit last June against Quaker's parent company PepsiCo, seeking full restitution of all money gained through misleading labeling and a court order forcing Quaker to provide public notice of the true composition of Crunch Berries.
In his order dismissing the lawsuit, Judge Morrison England, Jr. said "a reasonable consumer would have understood the product packaging to expressly warrant only that the product contained sweetened corn and oat cereal, which it did."
"As far as this court has been made aware, there is no such fruit (Crunch Berries) growing in the wild or occurring naturally in any part of the world," England wrote.
In his dismissal order dated May 20, England pointed out San Diego lawyer Harold Hewell, who represents Sugawara, filed a similar suit against Fruit Loops cereal, which was also thrown out of court."
Of course, the good attorney Hewell filed a new motion this week seeking an August hearing for the judge to reconsider the dismissal. We all know if he wins, in most cases like this, we will probably get on free box of Cap'n Crunch and he will get a cool million or two. (In the lawsuit, he asked for $5,000,000)
The last question, if Janine Sugawara is so concerned about eating fruit, why is she buying heavily sugared cereal anyway? If it did contain real berries in the cereal, the amount of sugar in the cereal would kill off any benefits she might derive from the berries! Three-quarters of a cup of Cap't Crunch cereal contains 12g of sugar (3 teaspoons), not exactly a health food.