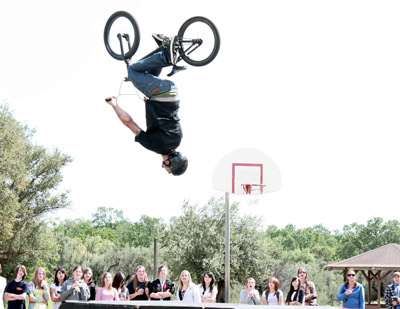 The Cap City BMX Stunt Team and two of its world-renowned riders, Mike Saavedra and Pete Brandt, will be performing at this year's Nevada County Fair. Both riders are known world-wide for their high-energy biking skills and their ability to perform amazing feats and tricks on a bicycle.

Saavedra, a ramp rider, recently placed fifth in the world for his riding skills at the Barcelona, Spain Extreme Games. He's been riding and competing for eight years, and has received numerous awards for his aerial feats. Saavedra was recently a featured BMX ramp rider in the Miley Cyrus video "Start All Over," and also appeared in an AT&T commercial. As a ramp rider, Saavedra performs aerial tricks that include back flips and front flips.
Brandt has received 38 first place wins in his riding career as a "flatlander," and most recently received first place for his skills in the Voodoo Jam games. Brandt, who performs his bike tricks on the ground, has completed commercials for Panasonic, AT&T, and Sega.
Both riders travel nationally and internationally performing their riding tricks, and their shows also feature messages about staying drug free, practicing bike safety and about the different disciplines of riding.
The Cap City BMX Stunt Team will perform in the Extreme Zone, located at Gate 5, at 1:00 and 2:00 pm on Wednesday, Thursday and Friday of the Nevada County Fair. An autograph session will follow each show.
For a complete schedule of events, visit Nevada County Fair This year's Fair runs August 12 – 16.
By Wendy Oaks