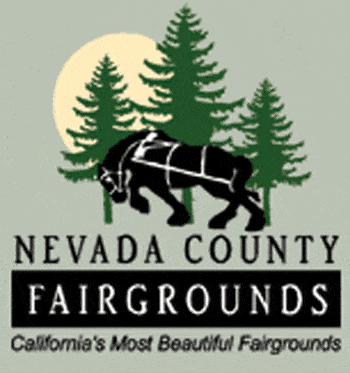 By Wendy Oaks
The Nevada County Fairgrounds Foundation is hosting a costume contest at its Halloween event on Saturday, October 29, from 2 – 5 pm at the Nevada County Fairgrounds. The costume parade and contest will take place at 3 pm at the Main Exhibit Building, with prizes awarded following the contest.
There will also be games and treats for kids, face painting, and even a cupcake walk! A silent auction will be happening throughout the event. Hamburgers and hot dogs will be served and "Running for Cover" will provide toe-tapping live entertainment for all to enjoy. The Nevada County Narrow Gauge Model Railroad will be open for tours, and, weather permitting, Empire Carriage Company will provide carriage rides around the Fairgrounds.
Also at the event, Nevada Union students will also host several interactive booths, including face painting and a fun tractor booth. Chickens, cattle, lambs, goats, pigs, and horses will be on display in the mock farm setting; and the farm scarecrow will welcome children to a California agriculture experience. Don't forget about the Pumpkin Chuckin' event, which is a competition between Nevada Union and Bear River high school FFA students that involves catapulting pumpkins across the Fairgrounds grass area.
It's all happening, rain or shine, on Saturday, October 29 from 2 – 5 pm at the Nevada County Fairgrounds. The cost is only $5 per person and includes food, treats, games and entertainment!  Tickets can be purchased on the day of the event at the Fairgrounds.
The Halloween Fun the Fairgrounds event is sponsored by Cirino's at Main Street/Cirino's Bar and Grill.  Visit www.NevadaCountyFair.com for information or call
(530) 273-6217.
Wendy Oaks
Publicist, Nevada County Fairgrounds
(530) 273-6217
wsoaks@gmail.com
Website: www.NevadaCountyFair.com
Facebook: Nevada County Fairgrounds
Nevada County Fair August 8 – 12, 2012
Draft Horse Classic September 22 – 25, 2011
Halloween at the Fairgrounds October 29, 2011
Country Christmas Faire November 25 – 27, 2011
Thinking of buying or selling?
For all your real estate needs
Email or call:
John J. O'Dell Realtor® GRI
(530) 263-1091
Email jodell@nevadacounty.com