By Judy Pinegar
Guess what … it was raining this morning and all last night. We left Dominical about 8:30 AM with plans to get breakfast in Uvita. But we all must have blinked at the wrong moment for soon we were past that town wherever it was and still hungry. So we saw a sign for the Lookout Hotel and Restaurant and ventured up the unpaved road to the top. It was beautiful, and their rooms start at $55… shoud'a stayed there! Breakfast was also excellent a combination of German and Costa Rican food.
Tearing ourselves away from the view, a few minute conversation with the hostess confirmed that driving to Drake Bay on the Oso Peninsula was probably a bad idea. She suggested a boat from Sierpe (only 45 minutes away), down a long river and across the open ocean to Drake Bay was the better plan. She even handed us a very not-to-scale map to guide us. Luckily a gas truck helped us to find the town. Sierpe was a very mellow town on the river and we arrived just in time to catch the 11:30 boat for only $15.00 each!!
The ride was something else, a beautiful river, jungle on all sides, gradually getting huge before we entered the ocean. We stopped for pictures of crocodiles, for a tour through a mangrove forest with a very narrow passage, and in the middle of the ocean the boat suddenly stopped cold in the water. Someone said "Well at least there aren't any crocodiles here, and the reply was but "Watch out for the sharks though?" Turned out to be a piece of wood caught on the propeller, soon extracted and we were safely on our way.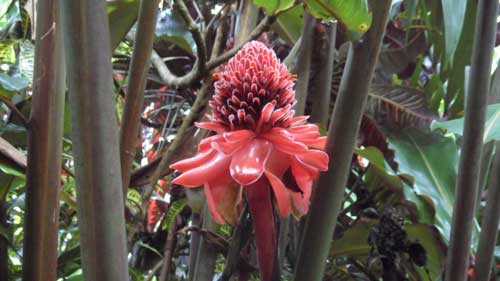 Arriving at our destination we quickly noticed that there was no dock, so the last few yards were going to be wet. Yes indeed and we were on the beach. Soon however hotel staff arrived to carry our luggage, and we were welcomed to lunch upon arrival. We are staying at Hotel Jinetes de Osa, which I would recommend.
So after spending a few hours on a hammock, listening to the waves crashing 10 feet away and seeing through the typical jungle plants to beautiful birds, flowers and butterflies, I was conscripted to write this piece. Hasta Luego until manana and la Isla de Cano.
Judy Pinegar is a writer and her articles have appeared in numerous publications.