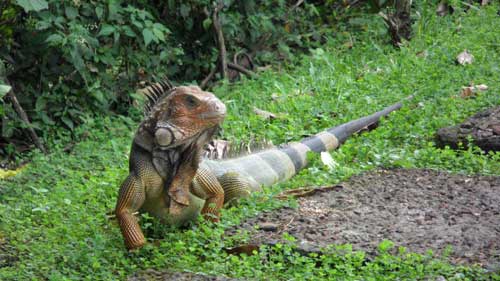 By Judy Pinegar
Well I was down with a head cold and John thought that he was right behind… but Ted came up with some medicine to be used pre-cold and we took it. Seems quite nice so far!! Wonderful, totally NEW breakfast again! So after a bit of a sleep-in for me and Breakfast for John and Ted, we agreed to split for the day. Ted needed to go see his attorney, and we were going exploring in San Jose, Costa Rica.
Our first stop was INBio Park, a natural history museum, a living monument to the biological diversity that has made Costa Rica famous. Paved trails lead through re-creations of several distinct ecosystems in Costa Rica. We saw several Iguanas (see picture) and other creatures.
After that we went to the Jade Museum. Jade was the most valuable commodity among the pre- Colombian cultures of Central America, worth even more than gold. The museum holds a huge collection dating from 500 BC to 800 AD. Most are large pendants, primarily of human or animal depictions that were part of presumably massive necklaces.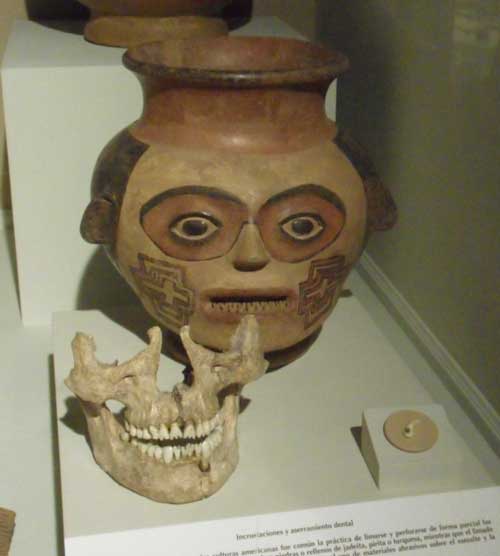 The museum also had a large collection of pre-Colombian terra-cotta vases, bowls, and figurines. Some of these pieces are surprising in their modern design and advanced techniques. Particularly fascinating are a vase that incorporates real human teeth and a display that shows how jade was imbedded into human teeth for decoration!!
Judy Pinegar is a writer and her articles have appeared in numerous publications
 
For all your real estate needs
Call or email
John J. O'Dell® GRI
Real Estate Broker
O'Dell Realty
(530) 263-1091
jodell@nevadacounty.com
DRE #00669941