This post was written by
jd
on October 18, 2010
Posted Under:
Real Estate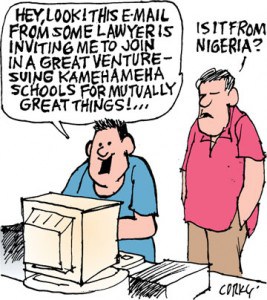 A crook with a computer has stolen an online listing from an Ames real estate company and is posting it on Craigslist as a rental, asking people to wire hundreds of dollars overseas, according to local and state sources.
Hunziker & Associates agent Tabitha Zesch said the property — a single family home priced at $129,900 — has been posted as a rental on Craigslist.
The scam artist put a story on the web page, "saying that the owners had been transferred overseas, that the property rents for $700 a month and that if anyone wanted, they could wire a deposit to hold the property," Zesch said.
Zesch said her company became aware of the fraud only because a potential renter got suspicious, tracked down Hunziker as the listing agency and e-mailed her office.
She said her company notified state and federal authorities and alerted Craigslist, but that the listing was still there late Tuesday afternoon.
Bill Brauch, director of the consumer protection division for the Iowa Attorney General's office, said scams like this one "are fairly common."
"If you're selling a home or some real estate online, (the crooks will) duplicate the ad and set up a scam of their own," he said.
Source Ames Tribune
Need real estate help?
Call John J. O'Dell
Real Estate Broker
530-263-1091
DRE #00669941