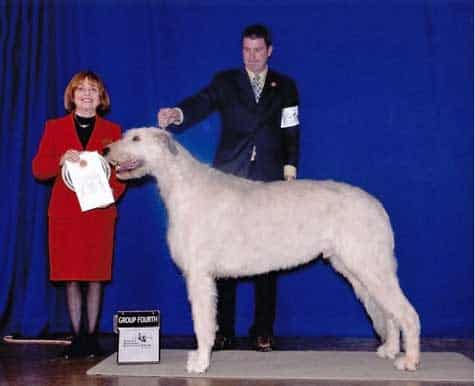 Gail Hawksworth with Cruiser
Earlier I had written about Logan, an Irish Wolfhound taller than his master. Now here's Cruiser, Logan's son and also first class of his breed.  By the way, Cruiser is bigger than Logan!
Here's Cruiser's story as told by his owner Gail Hawksworth ,
"Cruiser is my best friend.  He is much larger than his dad. He will be 5 this June. (Logan is 6 or 7 Yrs. old now) weights 184 lbs. and is 37 in. to his shoulders. Standing on his hind legs he is well over six and a half feet tall.
He is America's number 1 Irish Wolfhound for 2010 in All Systems and the First Irish Wolfhound to received the title of Grand Champion in America. He also has other titles he has received === International / National Champion, T.D.I (therapy dog international) C.G.C (canine good citizen) and T.T. (temperament tested).
He is retired now and enjoys his therapy work which consist of giving sloppy licks to those who wants them and putting smiles on faces. He goes to hospitals, convalescent homes, schools and all different public events.
Has his dad they give some much love to all that comes in contact with them. They are truly " Gentle Giants " He is his father's son —— : )
By the way, Cruiser's full name is GCH.CH.MYSHAM OF REDWALL T.D.I, C.G.C, T.T       " CRUISER "
See also Irish Wolfhound, Logan, A Dog Taller Than Its Master
For all your real estate needs, call or email:
John O'Dell
Real Estate Broker
O'Dell Realty
(530) 263-1091
Email John jodell@nevadacounty.com