This post was written by
jd
on September 6, 2009
Posted Under:
Real Estate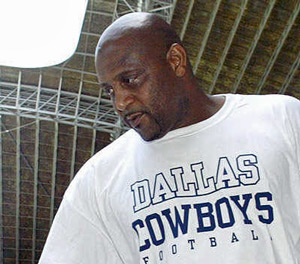 Former Dallas Cowboys linebacker Eugene "The Hitting Machine" Lockhart was arrested by FBI agents at his Carrollton home Thursday morning after being indicted on mortgage fraud charges, the U.S. Attorney's office said.
Lockhart, 48, and eight others were indicted by a federal grand jury on various charges, including conspiracy, bank fraud and wire fraud. The alleged scheme involved approximately 54 fraudulent residential property loan closings resulting in the funding of $20.5 million in fraudulent loans.
Lockhart, who played for the Cowboys from 1984-90, and co-conspirator Lendell Beacham, 50, of DeSoto, were scheduled to appear before a federal magistrate at 1 p.m. If convicted, they could face up to 30 years in prison and a $1 million fine.
The indictment alleges that Lockhart and the others ran a scheme in which they located single-family residences for sale in the Dallas area, including distressed and pre-foreclosure properties, and negotiated a sales price with the seller. They allegedly created surplus loan proceeds by inflating the sales price to an arbitrary amount substantially more than the fair market value of the residence.
The statement from the U.S. Attorney's office added that the group recruited individuals to submit false financial information and act as "straw purchasers" or "straw borrowers," promising to pay them a bonus or commission for their participation.
Source: The Dallas Morning News