This post was written by
jd
on March 16, 2010
Posted Under:
Real Estate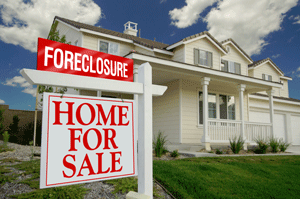 U.S. foreclosure filings rose 6% in February from a year earlier, the smallest increase in four years, according to RealtyTrac.
RealtyTrac Chief Executive James J. Saccacio added the leveling of the foreclosure trend isn't necessarily evidence that fewer homeowners are in distress and at risk for foreclosure, but rather that foreclosure-prevention programs, legislation and other processing delays are capping monthly foreclosure activity.
The market researcher reported foreclosure filings on 308,524 U.S. properties in February, up 2% from January. Default notices, meanwhile, were up 3% from the prior month but down 3% from a year earlier. Scheduled foreclosure auctions and bank repossessions were both down from January, but grew from a year earlier.
Nevada posted the top foreclosure-filing rate for the 38th consecutive month despite a 30% year-over-year decrease. One in every 102 Nevada homes received a filing, more than four times the national rate. Even with a 9% decline in February from the prior month, Las Vegas was the worst metropolitan area, with one filing for every 90 homes.
California, meanwhile, posted a 15% year-over-year decline in February. Six California and Arizona metro areas were in the top 10 nationally, while Florida again had two.
Source: Wall Street Journal
Do you know that it's getting to be a seller's market in the under $250,000 price range? Almost every home in that price range seems to have multiple offers now. Interest rates are low. This combined with federal tax credits and investors still  buying is continuing to fuel sales.
John J. O'Dell
Real Estate Broker
Search Foreclosed Homes And Short Sales
At click here JohnO'DellRealty.com