This post was written by
jd
on November 12, 2010
Posted Under:
Real Estate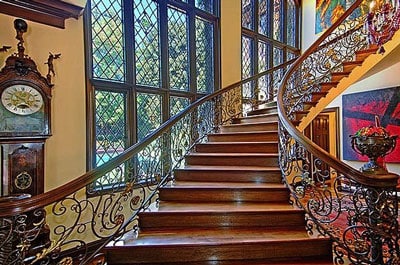 In 1940, the property was built for $110,000. Years later, Nicolas Cage bought it for millions, and then lost it to foreclosure on the county courthouse steps. Recently, it sold to an anonymous buyer listed only as a limited liability corporation for about a third of its last listing price: $10.5 million dollars.
The 1940 Tudor had failed to generate any bids in April when it was offered at the county courthouse steps in Pomona. Six loans totaling $18 million encumbered the house, which the actor had decorated in a style one local real estate agent dubbed "frat-house bordello." Among personalized touches were garish room colors, three dozen bronze wall sconce holders made from a cast of the Oscar winner's arm and hundreds of elaborately framed comic-book covers lining the walls.
The mansion, which one local real estate agent described as a "frat-house bordello," had been highly customized over the years not only by Cage, who painted the rooms in "garish colors," hung bronze wall sconces made to look like the arms of the Oscar statue, and lined the walls with more than 300 "elaborately framed comic book covers," but also by singer Dean Martin, who commissioned a 2,500 square foot entertainment complex and by singer Tom Jones, who erected a $60,000 wall to "keep adoring fans at bay". Other unique design elements included model trains on raised tracks circling the breakfast room and two bedrooms, an Olympic-sized pool and a central tower.
The sale of the house also left five of the six lenders holding liens against the house hanging, since when the foreclosure failed ownership reverted to the foreclosing lender. There were a total of six liens in the sum of $18 million against the property. Bob Baker, a local foreclosure data analyst, described the situation as "a microcosm of what's going on in our state [California]." He added that people are still taking out loans as a "survival tactic" to pay other loans and meet expenses, and that he has seen as many as 13 loans on a single property. The buyer ultimately was able to get such a low price on the property because once the courthouse event eliminated the other lenders from the collections process, the primary lender was able to sell for much less than the sum of all the liens on the property.
Interested in buying or selling real estate?
Call John J. O'Dell
Real Estate Broker
530-263-1091
DRE#00669941