This post was written by
jd
on November 13, 2009
Posted Under:
Real Estate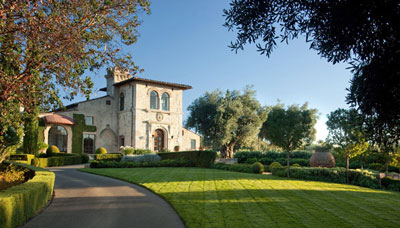 Remember when  Joe Montana, former San Francisco quarterback and Hall of Fame quarterback had the art of winning the football game in the last 10 seconds of play? Surprising as he was then, it's even more surprising that he has a home in Calistoga that he put on the  market for a cool $49 million. Not only that, this home is just a vacation home, not his main residence.
The setting: More than 500 acres in Calistoga, at the north end of the Napa wine country, spilling over into Sonoma County. The "ultra-private property" includes a 9,700-square-foot Tuscan-inspired main residence, "professional-grade" equestrian center, two creeks, a pond, full-sized basketball court, skeet shooting range, caretaker's residence, guesthouse, pool and spa, gym, Bocce ball court, and a producing olive farm.
The main residence features three bedrooms, 3 1/2 baths, a sitting room/upstairs tower, great room and dining room, loggia, kitchen, breakfast room, media room, office, climate-controlled wine cellar and tasting room, outdoor viewing tower, and two laundry rooms.
"Villa Montana was designed to feel as if it was handed down through the generations," Jennifer Montana said in a Nov. 9 statement.
The property consists of multiple parcels, which were assembled starting in 1995, said spokeswoman Alyson Pitarre. Joe and Jennifer Montana don't want to disclose how much they paid for the various parcels, she said. They live in Thousands Oaks, Calif., and have been using the Calistoga estate as a vacation house.
Local real estate agents say if Montana gets even close to his asking price, it will be a record sale for Sonoma County.