The next day we started on an trip to Purmamarca, pretty much due north of Salta. But we went the long way around first , to the north west of Salta. We started by following the famous narrow gauge railway called Tren a las Nubes (the train to the clouds).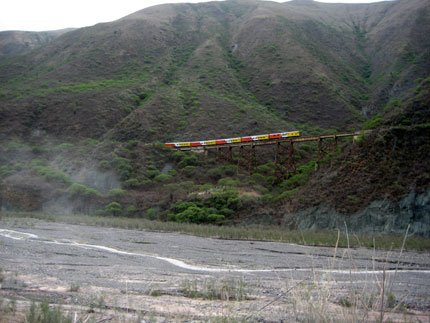 If you do want to take the train, it is a full fifteen hour trip from Salta and back again. But we were in a van and only followed the train for a few hours. Along the way, we watched the train when it came to an area that the train had to come to complete stop, back up to another track going up hill, raising as it backed up, then going forward to a higher track. This was the only way it could climb the mountain. The construction of this railroad is an engineering feat and took twenty years to build, constructed by men with only basic tools through almost impossible conditions, detonating rocks and cutting away steep mountain sides through howling winds and snow.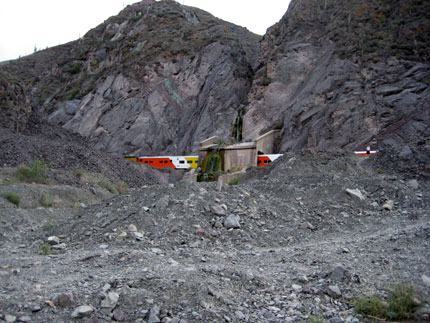 This small tunnel was constructed to have the water from the mountains go over the track, otherwise washing out the rails.
We arrived at San Antonio de los Cobres where the land changes dramatically to the high desert puma (a lot like Nevada). This was a simple former mining town of low adobe buildings in very poor condition in the middle of a dry dirt valley.
We left that town after a quick tour with no stops(!) and went to a settlement truly in the middle of nowhere, which was founded by a man who had a vision to be self-sustaining and to have a place for tourists to stop and have lunch. He had many children and has since, with them, built many buildings all of them of adobe. He has even constructed a church and museum. He has goats, chickens, llamas, a hot house for fruits and a garden to grow their own vegetables.. There was a solar oven, one small solar panel for electricity, a homemade cell phone antenna… and basically has done quite well if you like to be with your family 24/7 and work seven days a week from sun up to sun down.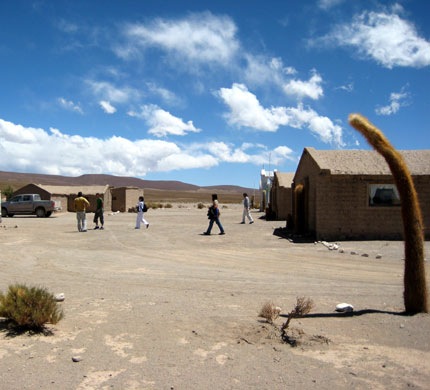 We had a very nice lunch there, family style, with a stew (of an unknown type of meat), vegetable soup and fruit desert. The restaurant held maybe 40 people, and was really quite nice. The tables we ate at were made of SALT (more on this later).
After lunch we proceeded down Highway 40 to Salinas Grandes (Great Salt Lake). This is an area that was once the Pacific Ocean, but due to past uplifting of the earth and volcanic eruption, it left a large area of the ocean to slowly The ocean evaporated leaving a large salt and mineral deposit. the thickness of the salt and mineral deposits range to from 1 to 3 meters. There are artisans carving figures and even huge sculptures (and large rectangles for shelves and tables) out of the salt.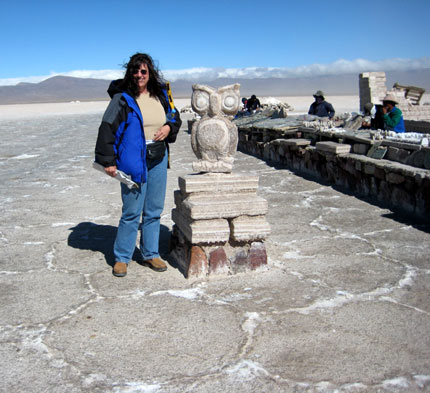 Water is still found when a hole is cut on the surface to about 8-10 inches below the surface. When this is done, the hole is left open for the winds to blow minerals into the pool, which then forms new crystals, and then is mined and sold. But for every 1000 Kilograms (or 2200 pounds) of salt the natives only get 18 pesos, or about $6.00 US from the Government. By the way, the winds blow constantly. And we were there on a good day which was blowing really hard.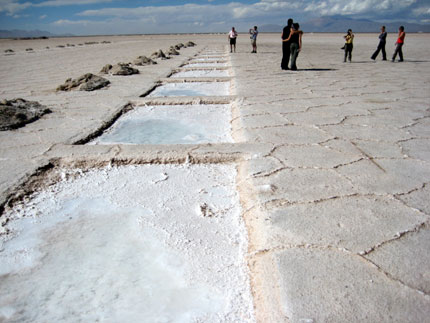 From there we went over some mountains, and down into a valley which held one of the cutest towns we had seen so far, Purmamarca. There we spent the night in the motel La Conarca in a suite/rooms that looked like it could belong to Worldmark or RCI travel corporations, really nice, and brand new. We bought a lot of gifts in the local market around the square, the best deals we had found.
Purmamarca is surrounded by mountains of seven different colors as you can see from this photo: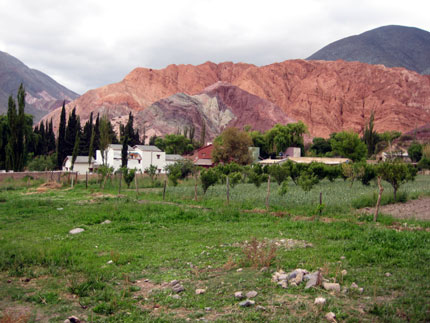 John O'Dell is a licensed civil engineer, general contractor and real estate broker. Judy Pinegar is Wavier Officer for the Department of Education. Your comments are welcomed