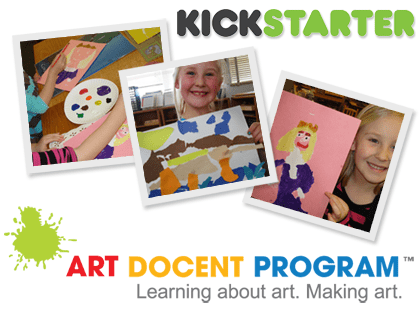 The Art Docent Program has a great history with Nevada County Schools… Since the program was founded twenty-five years ago, eighteen of our schools have adopted the program. Thousands of Nevada County kids have enjoyed it, and refrigerators of proud parents throughout the county have been decorated with their brilliant art.
Today, The Art Docent Program™ of Gold River, CA is launching a campaign on Kickstarter.com, the revolutionary website for funding art, music, film and tech projects. The project is called "The Art Docent Program Goes Digital!"
View the Project on Kickstarter.com
The Art Docent Program provides a sequential, interactive education in art history and artistic skills for K-6 grade children, which can be taught by volunteers called "docents", and are led by coordinator; the "head docent". The program is available for schools, after-school and summer programs, or any occasion where creative kids can make art.
Once the children see great works by famous artists on subjects such as "Mothers & Children", "Pets", or "Musicians" in various styles and periods, they can try their own hand, with age-appropriate materials and guidance.
View the Art Docent Program website at ArtDocentProgram.com
Initially developed in 1984 by art educator and author Barbara Herberholz, the Art Docent Program has been periodically updated. It has a proven track record of over 25 years in hundreds of schools using binders of training materials, and posters of famous works of art.
But the art posters were large, came in over 50 portfolio cases, cost a small fortune, and over years they took a beating in the classroom. When Barbara's daughters, Amy Scherschligt and Heidi Grasty took over managing the program, they began modernizing it. For the last year, a beta-version of the digital program has been enthusiastically adopted by thirteen schools in California, Utah and Washington.
Read more at ArtDocentProgram.com
The digital delivery system allows any classroom with a projector and Internet access to display the artwork, and for Head Docents and Docents to access their own training materials online with any web browser. The program has been tested in 13 schools this year with four lessons per grade level.
The Kickstarter project will pay to complete the project, adding more lessons to create a full school year of lessons for all seven grade levels. In addition, more supporting materials, and improvements to the platform will be implemented so the system can handle more users. Completion of the project is scheduled for August, in time for the new school year.
Kickstarter.com includes a "Rewards" system for project backers. For "The Art Docent Program Goes Digital!" project, the rewards include credit toward paying for the system in a school of the donor's choice. Donations can be as little as $1, but the most common donation is $25 and the average donation over all Kickstarter projects is $70. The price for a school to use The Art Docent Program is $699 for the first year. A determined group of parents and teachers could fund The Art Docent Program in a school with only a few donors.
"We're hoping not only to raise our minimum of $60,000, but to reach more children through the publicity Kickstarter can bring" said Amy Scherschligt, "Each school can mean thousands of children learning about, and creating art. So this may just be the biggest art project ever on Kickstarter. We think the existing fans of Kickstarter will appreciate that. But we think the biggest supporters will be parents who want The Art Docent Program for their own kids!"
"With all the teaching to the test and budget cuts we've seen in recent years, it's great that some schools are tapping volunteers to continue to provide art education." Adds Heidi Grasty. "Kids really do better in all subjects when their minds are stimulated with fun and engaging creative activities. We talk to adults who had this program as children, and its among the things they remember most about grade school. We really need to reach more children!"
Here's what some of the people who have brought The Art Docent Program into their schools have said:
"The Art Docent Program has been in the San Juan Unified School District for over 25 years and has educated thousands of students from K-6 in art history" -Heather Taft, Art Docent Program Coordinator for San Juan Unified School District and Art Docent since 1988.
"With the new digital program, we look forward to greater opportunities to utilize the Art Docent Program in a new variety of instructional settings. The power of technology will enhance and further "bring to life" the beauty and treasure of art for students. It is with enthusiasm that I recommend this fine program to schools and districts, and look forward to its implementation throughout the Rocklin Unified School K-6 classes." – Linda Rooney, Deputy Superintendent for Rocklin Unified School District: Rocklin, California
"The Art Docent Program replaces what has been missing in California Schools: Art. We have brought it back through this program." – Rebecca Jeffries, Art Docent Program Coordinator The Roseville City School District
For More information:
Email: Learning@ArtDocentProgram.com
Phone: (916) 486-4633
Media inquiries about Kickstarter.com can be directed to Kickstarter staff at this email address: press@kickstarter.com …or by exploring their awesome website at http://kickstarter.com