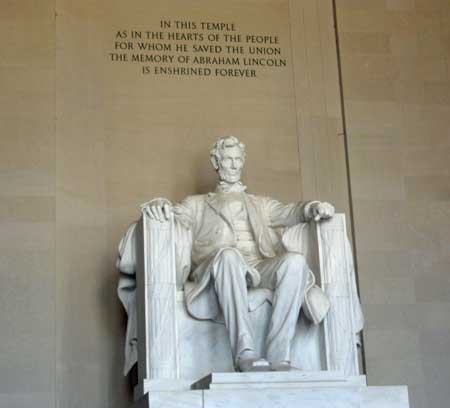 By Judy J. Pinegar
Sunday May 15, 2011 was supposed to be the day the rain really came in to DC. But the morning was bright and sunny, so Pat drove us up to Washington for an overview. We found a parking place near the monuments, and proceeded to view: The World War II Memorial, The Reflecting Pond (not reflecting anything right now, it is under reconstruction, so all we saw was the pile-driver and hundreds of piles being driven into the ground to support the concrete for the reconstructed reflecting pool), the Lincoln Memorial, the Korean War Memorial, and the Vietnam War Memorial.
Following this, we drove to Arlington Cemetery, and took the bus tour to see the Tomb of the Unknown Soldier (actually three unknown solders, from World War I, World War II and the Korean War) The day we were there they actually had two ceremonies to change the wreath, as well as the normal changing of the guard.
We then moved on to Arlington House, which was built by George Washington's grandson, partly as a memorial to the first president. But his only surviving daughter, Mary Anna Randolph Custis, married General Robert E. Lee, of Confederate fame. After he left to fight for the confederacy, Mary Lee was forced to leave when the Union army took over her house. Almost immediately they began burying Union soldiers in the gardens around Arlington House. The Federal Troops did this on purpose so that General Lee would never again occupy the Arlington House. That was the start of the present day Arlington Cemetery. We were told that every day except Sunday 18 to  25 people are buried there.
Robert E. Lee and his wife never legally challenged for the return of the home, as Lee felt it would be too divisive. In 1870, after his father's death, George Washington Custis Lee, their eldest son, filed a lawsuit in the Alexandria Circuit Court. The case was ultimately decided by the Supreme Court in a 5-4 decision in United States v. Lee, 106 U. S. 196 (1882). The court found that the estate had been 'illegally confiscated' in 1864 and ordered it returned, along with 1,100 acres (4 km2) of surrounding property. In 1883, Custis Lee sold the mansion and property to the U.S. government for $150,000 (roughly equal to $3.5 million in 2011 dollars) at a signing ceremony with Secretary of War, Robert Todd Lincoln.
Judy J. Pinegar is a writer
She has written for numerous blog sites and magazines