This post was written by
jd
on January 23, 2011
Posted Under:
Real Estate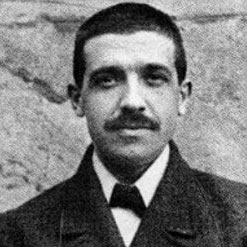 Charles Ponzi, the man from whom the term "Ponzi Scheme" came from.
SACRAMENTO – In a case prosecuted by the state Department of Justice, William Arthur Sassman II, who looted the life savings of dozens of investors to bankroll his own lavish lifestyle and finance his own investments, was sentenced today to 18 years in prison.
Sassman convinced people who had painstakingly saved for their retirement that he could make a lot of money for them. Instead he used their money for his fine clothing, his expensive cars, his several homes and his own illegal investments.
Sassman, 42, of Sacramento, appeared in Sacramento County Superior Court today where he had previously entered a guilty plea on 13 felony counts of grand theft.
Judge Lloyd G. Connelly sentenced Sassman to prison and ordered him to pay more than $4.45 million in restitution to 48 victims. No funds have been found, however, and it is unlikely victims will receive repayment.
An investigation by agents of the Department of Justice revealed that Sassman, a licensed insurance agent, operated a Ponzi scheme starting about 10 years ago in which he repaid current investors with money from new investors.
Using a book he wrote, "Secrets of a Worry Free Retirement," Sassman convinced investors, many of whom were senior citizens, to shift their life savings to "high return" investments. These investments included foreclosed properties and real estate on Mare Island (Vallejo) and in other states, commercial property in El Dorado Hills near Sacramento, the production of a laptop computer stand called the "Notefloat," which never sold, and annuity, stock and foreign currency investments.
Read the rest of the article Office of Attorney General