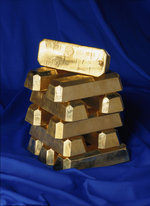 (Bloomberg) — Henry Jones delivered the good news in a conference call with Tri Energy Inc.'s investors: The gold deal the company had been working on for years was about to pay off.
Jones, 55, a record producer in Marina del Rey, California, and his two partners had raised more than $50 million from 735 investors, which they said they were using to broker the sale to Arab buyers of 20,000 tons of gold owned by a group of Israelis. They promised to triple investors' money — if only Tri Energy could overcome some last-minute glitches.
All the company needed to close the deal, Jones said on the Dec. 20, 2004, conference call, taped by one of the participants, was a "safe-passage letter" that would cost $450,000. A few days later, on another call, he said Tri Energy had to come up with $100,000 to open a "commission account." Then, on Jan. 15, 2005, a new request: The bank handling the deal wanted $125,000 to conduct an audit.
Like those caught up in other get-rich scams — from Bernard Madoff's $65 billion Ponzi scheme, which initially snared wealthy Jews, to an alleged $4.4 million fraud aimed at deaf people — Tri Energy's investors had something in common. Many were Mormons and born-again Christians who shared dreams and prayers on nightly conference calls. They vowed to use the profits for charitable works and kept raising funds, at times taking out second mortgages, draining retirement accounts and recruiting relatives.
While the delays and pleas for more money never stopped, the charade did.
Restraining Order

In May 2005, the U.S. Securities and Exchange Commission obtained a temporary restraining order against Jones and his partners, Robert Jennings, an associate pastor at the New Life Fellowship Church in Perris, California, and Arthur Simburg, a former marketing representative for sporting-goods manufacturer Puma AG.
Jones, a native of Nigeria, and Jennings, 59, were later convicted in federal court in Los Angeles on charges of mail, wire and securities fraud. Jennings was sentenced last November to 12 years in prison, and Jones got 20 years in April. Both men have filed notices that they intend to appeal. Simburg, 64, who pleaded guilty and cooperated with prosecutors, received a nine- year sentence.
Neither Simburg nor Jennings responded to letters sent to them in prison seeking comment. Jones replied in a hand-written note that he had been asked by an Arab group to broker deals in gold, crude oil and bank securities. He said the gold deal had not closed because it was structured as an "investment instrument," not a one-time deal, and that, though the prosecutors could find no records, it was genuine.
Affinity Fraud
While their scam was puny compared with Madoff's, which netted him 150 years in prison, it had much in common with the largest Ponzi scheme in history and other so-called affinity frauds. Such cons prey on like-minded or culturally connected investors whose trust blinds them to the implausible in the pursuit of profit.
The SEC has filed 86 enforcement actions involving Ponzi schemes since the beginning of 2006, according to data compiled by NERA Economic Consulting, a New York-based research firm. The number more than tripled to 36 in the first six months of this year from 11 in 2006.
Many of the scams, in which money from new investors is used to repay others or siphoned off by the promoters, targeted religious or ethnic groups.
Haitian Ponzi
In December, the SEC accused George Theodule of running a $23 million Ponzi scheme aimed at fellow Haitian immigrants, whose money he promised to double in 90 days. In April, it obtained an injunction against Marvin Cooper, who is deaf and who the SEC said was running a $4.4 million fraud based in Hawaii that recruited deaf investors in the U.S. and Japan. In June, it got a cease-and-desist order against Peter Son, a Korean-American, who it said bilked Asian investors, mostly Korean immigrants, out of $80 million.
Theodule's lawyer, Russell Weigel, says his client is seeking a dismissal of the SEC case. Cooper consented to the injunction, and his lawyer, Michael Glenn, says he's trying to make restitution. Son pleaded not guilty to criminal fraud charges in federal court in Oakland in July.
"Affinity can be a powerful element," says Mitchell Zuckoff, a professor of journalism at Boston University and author of "Ponzi's Scheme: The True Story of a Financial Legend," a 2005 book about Charles Ponzi's 1920 fraud. "That's what gets people to lower their inhibitions. There's this attitude, 'He's like me. I can trust him.' It's almost hard- wired into our DNA."
'Totally Outlandish'
While some Tri Energy claims were implausible — the 20,000 tons of gold was more than twice the total U.S. bullion reserve, the largest in the world — investors rarely wavered in their loyalty. One even invested more money after his brother, despondent about being conned, committed suicide, prosecutors say.
"These deals sounded totally outlandish to me," says Stephen Cohen, an SEC lawyer in Washington who worked on the case. "But it was obvious that the people on their conference calls were very sincere. They really cared about each other. They prayed for each other. They talked about their families. They just wanted to believe."
For Kim Flanigan, 37, a Mormon who owns a furniture store with her husband in Casper, Wyoming, being part of a spiritual mission was addictive. She says she invested $10,000 in Tri Energy at the suggestion of her mother and an aunt.
'Like a Cult'
"It was almost like a cult," Flanigan says. "There were prayers at the end of most of the calls. That element was key. There was a real sense of camaraderie, a sense of community, and everything we were going to do involved humanitarian efforts to change the world. That's why you felt like you didn't dare disrupt it. God's behind us, and you shouldn't betray him."
Ned Hill, a professor of business management and a former dean of the Marriott School of Management at Brigham Young University in Provo, Utah, says Mormons have a history of being victimized by financial scams. The church, an offshoot of Christianity founded by Joseph Smith in 1830, teaches its 13.5 million members they can get into heaven by following a prescribed path of good works.
Hill says he confronted the power of belief over reason when he learned about 12DailyPro, an Internet advertising business being pitched to students at the Mormon-affiliated university that promised returns of 44 percent in 12 days.
'Community of Trust'
When he sent an e-mail warning students it was a pyramid scheme, he says he received death threats from some investors, which he reported to university security officials. The SEC obtained a permanent injunction and shut it down in 2006.
"What you have in a Mormon community or any religious community is a community of trust, and it can be very strong," says Hill, who is a Mormon. "If you can break into that trust, then the things that make this so supportive can make people really vulnerable. Mormons can be especially vulnerable because they're committed to doing good."
Jones, Jennings and Simburg, none of whom is a Mormon, exploited this vulnerability for at least four years, offering a cocktail of spirituality, exclusivity and the promise of high returns.
"The guys who did this were geniuses in a way," says Dana Carney, an assistant professor of management at the Columbia University Graduate School of Business in New York, who has written about investor psychology. "This has the flavor of a cult. They hit all these vulnerabilities. There was religion; we trust like people, especially religiously like people. With the nightly calls, there was an illusion of transparency. They took advantage of the sunk-costs phenomenon: The more people invest in something, the more connected they feel."
Congolese Uranium
The three didn't appear to be geniuses. Their company had no office, they rarely met with investors and they spun a series of deals that never materialized, according to prosecutors, including a plan to ship Congolese uranium via diplomatic pouch, a venture to produce 99.3 percent emissions-free coal at a Kentucky mine and a project to develop hydroelectric power in Sierra Leone.
"Some of their stuff sounded ridiculous, but it worked for years," says Ruth Pinkel, an assistant U.S. attorney in Los Angeles and a prosecutor on the case. "The more ridiculous it sounded, the more people seemed to love it."
Scam Victims
Jennings, the son of a postal worker, and Simburg, who grew up in Berkeley, California, were themselves victims of a scam. The two met in the late 1960s when Simburg, who was working for Puma, gave a pair of sneakers to Jennings, then a 6-foot-6-inch basketball player at California Polytechnic State University in San Luis Obispo, according to Jennings's pre-sentencing statement.
They reconnected in 1995 and, in the late 1990s, were trying to raise money for a clean-coal company called H&J Energy Co., Simburg told prosecutors.
An Orange County investment firm, Morgan Weinstein & Co., promised to loan them $100 million in exchange for a $100,000 fee — a fee they paid even after getting two calls from a Federal Bureau of Investigation agent warning them it was a con, according to FBI memos obtained by the prosecutors. The loan never materialized, and six principals in the firm were convicted of fraud in 2003.
Simburg told prosecutors he was introduced to Jones in 2001 by a mutual acquaintance who thought the Nigerian might use his international connections to help Tri Energy raise capital. Tri Energy, founded that year by Simburg, Jennings and Jennings's father-in-law, Thomas Avery, was registered in Nevada and had leases on two low-producing Kentucky coal mines.
'Paradigm Pioneer'
Jones failed to find any investors, according to Simburg's account. He did offer something else, Simburg testified: a chance to take part in a Middle East gold transaction and use $200 million of the expected profits to finance the coal operation. Asked at his trial to explain his own involvement with Tri Energy, Jones called Simburg "a paradigm pioneer who had a project that was likely to contribute to ascendant energy."
Jones was more flamboyant than either Simburg, who lived in a bungalow near the Los Angeles airport, or Jennings, who had a small house in Perris, 70 miles east of the city. He used investor money to buy a $1.5 million home in Marina del Rey and a $277,000 Ferrari Spider for his wife, according to court- appointed receiver Richard Weissman.
He showed up for meetings in a chauffeur-driven limousine wearing loud, custom-made suits and a bowler hat, at times bringing his wife, Yekaterina Jones, an aspiring singer and Russian model, says a person who met with him on several occasions.
Gold Deal
Once Jones was onboard and taking part in the nightly conference calls, the gold deal took center stage, prosecutors say.
Jones, Simburg and Jennings each had a role on the nightly calls, according to prosecutors and a review of tapes, transcripts and summaries of 267 sessions conducted from early 2004 to early 2005. Simburg led the meetings, Jennings spoke about the coal mine and Jones offered updates on the gold transaction. The three also talked about the common beliefs that held the group together.
"Faith — if you have it the size of a mustard seed, you'll move mountains," Jones said during a call with investors in February 2004.
To Roger Sohn, 67, a dentist in San Bernardino, California, who invested and lost $210,000, the strong spiritual undercurrent made the three promoters more credible.
"That was one of the things that deceived me more than anything else," says Sohn, who describes himself as not religious.
Keep on Believing
Even when they were caught lying, the promoters managed to convince investors to keep on believing.
Several of them, angry about the repeated delays, confronted Simburg and Jones in Los Angeles on Super Bowl Sunday, Feb. 1, 2004, according to Craig Mason, the lead FBI agent on the case. Jones had told them he couldn't meet because he was in Europe, Mason says. When they went to the office of his music company, Marina Investors Group Inc., they found him hiding under a desk.
Three days later, Jones said on a conference call, according to a transcript of the meeting, that he had concealed his whereabouts because he was being shadowed by "men in white trousers circling the building in odd hours of the night." If investors gave him a little more time, Jones said on the call, he would provide proof that the gold deal was about to succeed.
"So we only have to wait another few hours for the documentation?" asked one investor, who wasn't identified. "I think it's worth our while to do that."
Suicide in Utah
The investors hung on for almost two more years.
"There was a core group that thoroughly defended them, even after they were shut down, and said that if you just wait, the gold deal will close," Mason says. "They blamed the government for their losses, for stopping the deal when it was about to come through."
When Wesley Montierth, a financial planner in Ogden, Utah, who had invested in Tri Energy, committed suicide in October 2004, Simburg attended the funeral and helped pay for it.
Montierth, a Mormon and a retired schoolteacher, grew despondent after realizing he had been conned and had lost $136,000 of his own money as well as funds of family members and clients, according to a deposition given by his widow, Kathy, and statements made in court by Douglas Axel, a prosecutor in the case.
Aunt Millie
That didn't prevent Simburg from reaching out at the funeral to Montierth's brother David, a California cable TV executive. David, who had already invested $100,000 at his brother's urging, testified that he put in another $65,000 at Simburg's request. He didn't return phone messages left at his home in Laguna Niguel, California.
Not long after Wesley Montierth's death, the scheme began to unravel.
"This all started when Aunt Millie called me and said she had a great investment deal," says Sean Pearson, 36, an accountant in Seattle and the brother of Kim Flanigan, the Wyoming furniture store owner.
Pearson says he first heard about Tri Energy in early 2004 when his aunt, Mildred Stultz, asked whether he might be interested in a gold deal. He says he later realized it might have been connected with a coal business in which his mother, Debbie Loveless, had invested about $50,000.
Taped Calls
"I finally linked it with the coal conversation I'd had with my mom, and I thought, 'My god, is this the same scam?'" Pearson says. "I immediately called Kim and asked if Millie had contacted her and if she'd invested. She said, 'Yeah, we're one of them.'
Prodded by her brother, Flanigan grew skeptical and started recording the nightly conference calls. Pearson joined a call in late 2004 and threatened to expose the scheme if Simburg didn't return his sister's $10,000.
After Simburg complied, Pearson informed Washington state securities regulators. The Department of Financial Institutions issued a cease-and-desist order on Feb. 28, 2005. Two months later, on May 3, the SEC got its order.
Simburg told investigators that Tri Energy's lawyer advised him and Jennings to go to the FBI and inform the agency that Jones's gold deal was a hoax. Instead, they continued to raise money into 2006, prosecutors say. The three were indicted on Sept. 27, 2007.
Simburg, Jennings
Some friends and family members of Simburg's and Jennings's say they were conned by Jones.
Arthur Simburg's brother, Melvyn, a lawyer in Seattle who didn't invest in Tri Energy, says Arthur wanted to prove he could succeed in business so badly he ignored the warning signs. Ted Norton, pastor at the New Life Fellowship Church in Perris, where Jennings was associate pastor, says his colleague was so motivated by Christian zeal to help others he allowed himself to be duped by Jones.
"He never seemed to get anything out of this," says Norton, who invested and lost about $14,000 in Tri Energy and says he isn't bitter about losing the money. "He never showed that he got any benefit."
Prosecutors say Simburg and Jennings together took about $1 million of the $32.6 million raised from February 2002 to January 2006, less than one-twentieth of what went to Jones.
Muddy Hole
The SEC says the scam went back to the 1990s and brought in at least $50 million. During the four-year period covered by the federal indictment, almost $8 million was paid out to investors, including some who received commissions for bringing in new money, prosecutors say.
Simburg took $588,854 for his own use, including salary and expenses. Jennings, who owned a 1992 Honda Accord and a 1993 Mazda Protege, according to sentencing documents, took $385,681, which he shared with his father-in-law.
Another $3.39 million was spent on the coal mine, described by Weissman as a muddy hole in the ground with broken equipment, about two dozen employees and output that generated just $117,825 in revenue over 2 1/2 years.
About two-thirds of the money raised by Tri Energy went to Jones, prosecutors say. In addition to the house in Marina del Rey, he purchased a town house in Culver City later valued at $725,000. He also bought a 2005 Porsche Cayenne for $108,000 and spent more than $800,000 supporting his wife and child. And $21 million went to his two entertainment companies, Global Village Records and Marina Investors Group.
Fantasy Twins
He built a recording studio, financed concert tours, shot music videos and paid clubs to let his artists sing. The revenue from Jones's entertainment businesses during the four years was about $7,800, according to Weissman. The last album he released, for a Korean duo called the Fantasy Twins, earned only $20.33 in online sales, Weissman says.
"He just blew the money, totally blew it on the company," says Weissman, who has been unable to account for about $13 million of the money Jones took.
He has recovered only $1 million of Tri Energy's assets, which will be returned to investors.
Jones wrote in his letter that his entertainment company was a long-term investment with valuable assets.
"My case, unfortunately, is a reminder that there are times when the abstraction of the soul from the bondage of the bottom line is worthy of serious contemplation," he wrote.
While the theft angers Pearson, the Seattle accountant who blew the whistle on Tri Energy, he's bothered even more by the investor behavior that made the scam possible.
"It angered me because I'd lost my Mom; I mean, there was no reaching her," Pearson says. "I showed her clear evidence why this had to be a scam. But after a while it wasn't about the money anymore. It was her identity. If people have a certain personality trait or emotional need, they won't let go."
Source http://www.feedcry.com/archive/aid/338416
This article has been copied for educational purposes only. It's to help make you aware of the many schemes that continues to flourish to take your money.
For more Bloomberg Markets magazine stories, see http://www.bloomberg.com/news/marketsmag/