By Judy J. Pinegar
May 18, 2011, Pat, John's daughter's husband's mother, had arranged a Bus trip to the National Museum of Natural History, and it was perfect timing. Both John and I were very tired, with sore feet from the day before! Arriving we saw a performance of Tahitian and Hawaiian dance (although only a few of the dancers were actually Tahitians!).
We then spent the rest of the day in this wonderful museum. One of my favorite areas was following the beginning of life, from the "big bang" to present day, tracking both the plants and animals who lived in the seas, and those who adapted to live on land. Seeing that huge timeline, where mammals have only come to occupy the earth in the last few centuries, it really gives you a sense of how tiny we are in the whole scope of things, and what the future might hold. So many things have become extinct, we might even be next!
We also saw an IMAX presentation on the Dinosaurs and actual relic research and reconstruction in Argentina today. The big screen and the 3-D really make an impressive viewing, Once, I had a dinosaur step on my face, and I definitely ducked when a prehistoric bird flew right at me!
The section on Mammals was very interesting, we certainly have some strange cousins, all with the three things that mammals all must have (1. Hair, 2. Milk for the young, and 3. An inner ear). We even saw a display of the first mammal, a little mouse like creature who lived in the time of the dinosaur, but actually survived that time to mutate and change over centuries to become the mammals of today.
Another area I loved was the Butterfly Viewing Rooms, although a little humid and warm to keep the butterflies in good condition, it was filled with beautiful plants and thousands of butterflies. Many types I have never seen, who actually come and land on your arm, or clothing, or the floor beneath your feet. You had to really watch where you were stepping in that area, and when you left they checked all your clothing for castaways!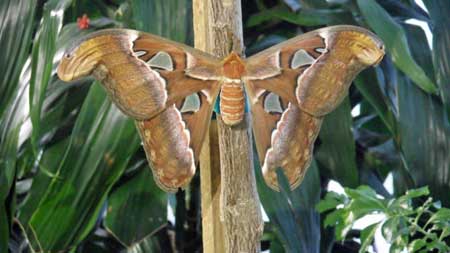 This is one museum that really takes more than one visit to view, at least for us, but the bus soon left returning us to an early relaxing evening and sleep.
Judy J. Pinegar is a writer
She has written for many different websites and magazines