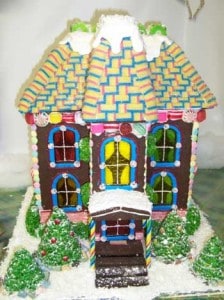 Gingerbread House Competition Results and Canned Food Drive Results
A successful canned food drive, more than 125 vendors, and sixty seven gingerbread houses built made the 26th Annual Country Christmas Faire at the Nevada County Fairgrounds a success.
The 8th Annual Gingerbread House Competition was once again a crowd favorite, with more than 67 entries received. Of those entries, the Best of Show winner was Kathryn Hammond of Penn Valley, and the People's Choice Award also went to Kathryn Hammond.  The Best of Show is chosen by the judges, and the People's Choice is selected through ballots cast by individuals who attend the Craft Faire.
First place winners in the individual categories include Jillian Beaver (child 5 & under); Ellie Andrews (child – ages 6-8); Ellie Robinson (child – ages 9-12); Evelyn Grandfield (kits – ages 8 & under); Toria Kinney (teen – ages 13-17); Kathryn Hammond (adult – 18 -64); Mary Abbott (adult – 65 & over); Ian Woodgrift (Special Needs); Hennessy Tiger Cubs After School Program (group – children 12 & under); Nick & Christina Walden (group – teen 13-17); Nora Devlin (group – family); The Perilman Family and Crew (group – adult 18 & over); and Bonnie Anderson (professional/business).
With the help of HOPE (Help Other People Eat) in Nevada County, Sunday's canned food drive collected 1,000 cans of food, as well as cash donations. These donations will be used at the organization's December food distribution. HOPE in Nevada County is a program established through the Grass Valley Elks, who partner with the Food Bank of Nevada County to feed those in need. HOPE distributes food once a month to anyone in the county in need of food and emergency food every Monday.
The 2011 Country Christmas Faire is planned for Thanksgiving weekend, November 25 – 27, 2011.  For information, visit www.NevadaCountyFair.com or call 273-6217.
By: Wendy Oaks
Publicist, Nevada County Fairgrounds
(530) 273-6217
wsoaks@gmail.com