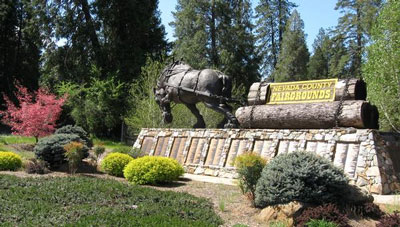 Nevada County Fair Horse Show at the Nevada County Fairgrounds June 25 – 27
Horse Show is part of the Mother Lode Fairs Horse Show Circuit
The 2010 Nevada County Fair Horse Show is scheduled for June 25 – 27 at the Nevada County Fairgrounds.  As part of the Mother Lode Fairs Horse Show Circuit, the oldest circuit show in California, this is a great event for both participants and spectators.
This annual three-day event gives spectators an opportunity to observe participants work with their horses as they compete in Driving, English, Halter and Western Shows.  The Driving Show begins at 10 am on Friday; the English Show at 8 am on Saturday; and the Halter Show, Western Performance and Trail Classes at 8 am on Sunday.
For participants, books and entry forms are available at the Fairgrounds Office or on-line at www.mlhscircuit.com or www.NevadaCountyFair.com.  Entries close June 7, and post-entries will be accepted. There will be classes for all ages and high point classes for the Mother Lode Horse Show Circuit. Additionally, this will serve as the California State Fair qualifying show for Nevada County Juniors. Entries can also be made on-line.
For spectators, admission is free so you can enjoy the Horse Show at California's Most Beautiful Fairgrounds. There will be food and beverages available for sale in the arena. Make it a day – see the Horse Show and enjoy a lunch or snack while watching the show!
Other dates on the Mother Lode Horse Show Circuit include shows at the El Dorado County Fairgrounds June 19 – 20, and at the Amador County Fairgrounds July 28 – August 1.
Call the Nevada County Fairgrounds at (530) 273-6217 or visit www.NevadaCountyFair.com for additional information.
Contact:         Robin Hauck, Deputy Manager
(530) 273-6217;  robin@nevadacountyfair.com