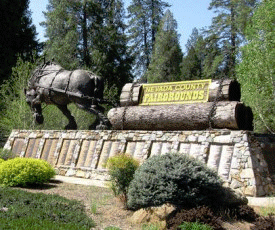 Seeking Volunteers for the 2012 Nevada County Fair
Volunteer Fair to be held on Tuesday, May 15, at the Fairgrounds

The Nevada County Fairgrounds is currently looking for individuals interested in volunteering at the 2012 Nevada County Fair, and will host a Volunteer Fair on Tuesday, May 15, from 2 – 6 pm at Ponderosa Hall at the Fairgrounds.
The Fairgrounds is seeking volunteers to help in the exhibit departments, to serve as greeters, to assist in parking, and to work with the Red Shirts overseeing customer service and public safety at the Fair. Volunteers will be asked to work four-hour shifts, and will receive free parking and free admission to the Fair on the day of volunteering, as well as a Fair t-shirt.
If you are interested in volunteering at this year's Fair, fill out a volunteer application and bring it to the Volunteer Fair on May 15. Applications are available on the Fair's website at www.NevadaCountyFair.com, at the Fair Office, and on the day of the Volunteer Fair.
Nevada County Fair's volunteers play an important role in helping to make the annual Fair a success. It's also an opportunity to donate time to the community, learn something new, and have some fun!
This year's Nevada County Fair is August 8 – 12. For information, call (530) 273-6217, visit www.NevadaCountyFair.com, or e-mail the Fair at info@nevadacountyfair.com.
# # #
Related articles
For all your real estate needs
Email or call today:
John J. O'Dell Realtor® GRI
Civil Engineer
General Contractor
(530) 263-1091
Email jodell@nevadacounty.com
DRE#00669941