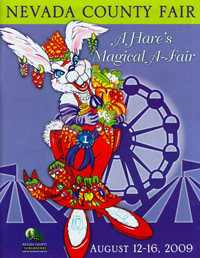 The Nevada County Fair starts this month and if you haven't been to the fair, you are in for a real treat. It is a park like setting, with many tall pine trees and a small town flavor. Its hard to figure out if you are in a park or a fair, since it is so nice. I like the exhibits and love Treat Street, where all the food vendors are. You can find anything there from knishe to hot dogs on a stick. There are many local exhibits and of course the vendors booths trying to sell you anything from a trinket to whatever you might imagine.

The following is a press release from Wendy Oaks of the Nevada County Fair:
"Tickets for the Nevada County Fair are on sale now. Purchase your admission, entertainment, and arena event tickets before the Fair begins and save money!
Buy your admission tickets before August 11, and get admission for only $5. Or, take advantage of other pre-sale offers before August 11 – a 5-day Fair pass with unlimited entry for $20; a season parking pass for $25; a carnival ride bracelet, good for unlimited rides for any one day for $23; purchase 30 carnival ride coupons for $20; or purchase any ticket to an arena event and receive admission to the Fair for only $5.
There are several ways to get your tickets early. Pre-sale and discounted tickets may be purchased by calling, faxing, or visiting the Fair Office by Tuesday, August 11 at 5 pm.
Pre-sale tickets can be ordered and picked up at the Fair Office or they can be put in "Will Call" in the Fair's Office, open Monday through Friday from 8 am – 5 pm. To save time, it is recommended that tickets in Will Call be picked up before opening day of the Fair. Beginning August 6 until August 11, pre-sale tickets will be available at the Gate 1 cashiers' booth.
After August 11, admission for the Fair is $8 for adults, $6 for seniors, $3 for children 6-12, and free to children less than 5 years of age.
This year's Nevada County Fair is August 12 – 16. The Fair's Office is located on McCourtney Road in Grass Valley. The phone number is (530) 273-6217 and the FAX number is (530) 273-1146. Visit Nevada County Fair for more information.