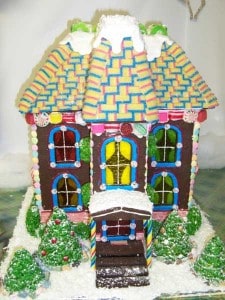 By Wendy Oaks
Mark your calendar for the 27th annual Country Christmas Faire at the Nevada County Fairgrounds in Grass Valley on November 25, 26, and 27. Rated as one of the top handcrafted shows in Northern California, the Country Christmas Faire features unique gifts and crafts from top artisans from across the state.
Exhibit buildings will be filled during the Thanksgiving weekend, giving shoppers a chance to start their holiday shopping with quality hand-made holiday items, ornaments, jewelry, wooden crafts, soaps and lotions, hand-woven baskets, stained glass, candles, bead work, and dozens of other unique gifts.
Visitors to the Faire will enjoy strolling live entertainment, festival foods, the magical Gingerbread House exhibit, Santa Claus and Mrs. Claus, errand elves, and a community bon-fire. Wagon rides around the Fairgrounds will be offered; and Victorian singers, the bell ringing RiverBells, and the Sierra Symphony quartet will perform throughout the event.
Free babysitting will be offered, so parents can drop off their children while they enjoy holiday shopping.
The Country Christmas Faire begins Friday, November 25, and runs through Sunday,
November 27. Admission is $4 for adults, and children 12 and under are free. Parking is $5; however, Faire-goers will receive one free admission for each paid parking pass.  The hours are 10 am – 5 pm on Friday and Saturday, and 10 am – 4 pm on Sunday.
The Nevada County Fairgrounds is located at 11228 McCourtney Road in Grass Valley, 50 miles northeast of Sacramento, off Highway 49. For more information, visit the Fair's web site at www.NevadaCountyFair.com or call (530) 273-6217.
Wendy Oaks
Publicist, Nevada County Fairgrounds
(530) 273-6217
wsoaks@gmail.com
Website: www.NevadaCountyFair.com
Facebook: Nevada County Fairgrounds
Nevada County Fair                          August 8 – 12, 2012
Draft Horse Classic                            September 22 – 25, 2011
Halloween at the Fairgrounds      October 29, 2011
Country Christmas Faire                  November 25 – 27, 2011
Thinking of buying or selling?
For all your real estate needs, call or email:
John J. O'Dell Realtor®
Real Estate Broker
O'Dell Realty
9530) 263-1091
jodell@nevadacounty.com