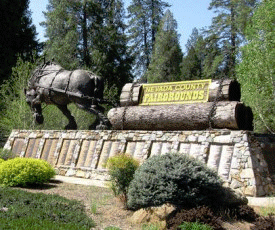 Visit the Nevada County Fair and help your community at the same time
Imagine being able to visit the annual Nevada County Fair at a discount, and be able to help the local Food Bank at the same time? At this year's Fair, you can! The Nevada County Fairgrounds and The Food Bank of Nevada County are teaming up to help feed those in need.
Bring a can of food (or two or three) to the Fair on Sunday, August 15, and the Fair will give you a coupon for $1 off general admission to the Fair on that day.  The Food Bank will have food collection bins available at the Fairgrounds from 10 am – 5 pm at Gates 1, 3 and 5, which is also where you'll receive your coupon. It's that simple!
All food collected on that day will be given to The Food Bank of Nevada County, which distributes food to those in need in our county.  At last year's canned food drive, 1,240 pounds of food were collected – enough to feed 550 – 600 families.
It's the best of both worlds – fun at the Fair, while helping out in the community. It's all part of Community Involvement Day, sponsored by YubaNet.com and The Food Bank of Nevada County, on Sunday, August 15, at the Nevada County Fair.
This year's Fair is August 11 – 15. Visit www.NevadaCountyFair.com for more information or call the Fair Office at (530) 273-6217. For more information about the Food Bank of Nevada County, visit www.foodbankofnc.org or call 530-272-3796.