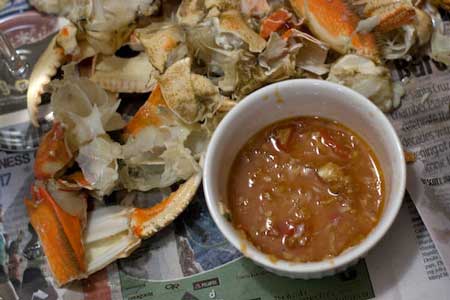 Join the Nevada County Fairgrounds Foundation at its first annual Crab Cioppino Feed on Saturday, March 26 at 6 pm at Ponderosa Hall at the Nevada County Fairgrounds.
For the event, Chef Arnie Romanello will create and serve his special 100-year-old recipe for all to enjoy. Dinner includes antipasto, all-you-can-eat Cioppino, salad, garlic bread and dessert. A no-host bar will also be available.
Tickets are $35 per person, and are available by visiting the Nevada County Fairgrounds office or calling the Fair Office at (530) 273-6217, calling a Foundation Board member at
(530) 271-3844, or by downloading an order form at www.NevadaCountyFair.com/Foundaton.
Proceeds from the event will benefit the Nevada County Fairgrounds Foundations and its mission of supporting and improving the community's Fairgrounds.
For more information, visit www.NevadaCountyFair.com or call the (530) 273-6217.
Source: Wendy Oaks
Publicist, Nevada County Fairgrounds
(530) 273-6217
Website: www.NevadaCountyFair.com
Facebook: Nevada County Fairgrounds
Nevada County Fair                          August 10 – 14, 2011
Draft Horse Classic                            September 22 – 25, 2011
Halloween at the Fairgrounds      October 29, 2011
Country Christmas Faire                  November 25 – 27, 2011
For all your real estate needs call or write:
John J. O'Dell
Real Estate Broker
O'Dell Realty
(530) 263-1091
Email John at jodell@nevadacounty.com
DRE# 00669941