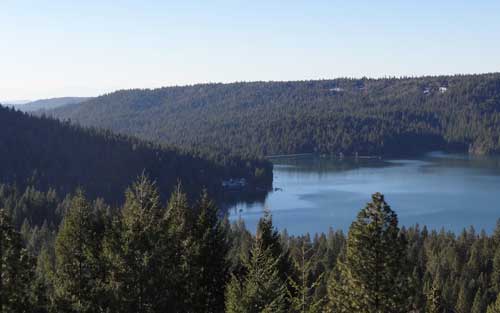 Scott's Flat Reservoir  (picture by John J. O'Dell)
Nevada Irrigation District has maintained good levels of reservoir storage and is planning to make normal deliveries this year.
District reservoir levels rose in the near record rains of November and December but the normally wet months of January, February and March brought just eight inches of precipitation to NID mountain watershed.
Official April 1 snow surveys, usually the year's best indicator of seasonal water supplies, showed just 17% of average water content in a thin mountain snowpack.
Seasonal precipitation at Bowman Reservoir (elevation 5,650 feet) stood at 52.62 inches as of April 10, which equals 87% of average.  Seasonal precipitation is measured from July 1 to June 30 on a yearly basis.
April 10 storage in NID's 10 reservoirs stood at 233,277 acre-feet, which is 93% of capacity and 125% of average for that date.
"Although we're starting out with well above average water storage, we are expecting below average runoff from the snowpack" said NID Water Operations Administrator Sue Sindt.  "This could impact the amount of storage we are able to carry over for 2014"
Sindt said NID will continue a conservative approach in water system operation and is encouraging district customers to eliminate water waste and use water efficiently.
To Contact NID Call (530) 273-6185 or (800) 222-4102
Source: Nevada Irrigation District.
Related articles
For all your real estate needs
Email or call today:
John J. O'Dell Realtor® GRI
Civil Engineer
General Contractor
(530) 263-1091
Email jodell@nevadacounty.com
DRE#00669941