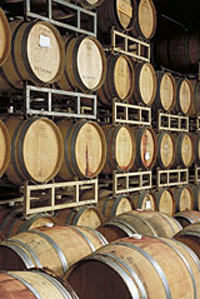 Located in the heart of Nevada City, we have one of the most unusual winery in Nevada County. Started in a garage like so many wineries have started, they went from a small garage to a much bigger one. Founded in 1980 in a small garage on the outskirts of town, in 1982 the Winery moved to its present location, the historic Miners Foundry Garage, on Spring St in downtown Nevada City. Remarkably, the Winery is located less than two blocks from where the original Nevada City Winery stood over a century ago.

The Winery was begun by Allan Haley, a Nevada County native with a European wine education and a dream of bringing winemaking back to our region. In 1880 there were over 300 acres of grapes in the County. In 1980 when the Winery opened there was one small vineyard, recently planted. Twenty years later there are again well over 300 acres of grapes and the wine industry is flourishing once more.
Over the years Nevada City Winery has been recognized with numerous awards, including Best Zinfandel, Best Cabernet Franc, Best Syrah and Best Cabernet Sauvignon for the Sierra Foothill Region, awarded by the California State Fair.
One of the things that makes Nevada City such a remarkable place is that it is filled with highly educated refugees from the urban world who choose to follow their interests rather than the brass ring. In spite of the hugely diverse backgrounds of the members of our team we all share a desire to live in a small community in the country and a passion.
If you are in Nevada City, stop by their tasting room at 321 Spring Street, Nevada City, CA 95959