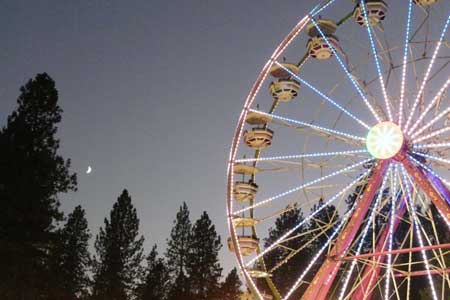 Mark your calendar for the event voted as "Nevada County's Best Event" for 11 years in a row – the 2011 Nevada County Fair, August 10 – 14, at the Nevada County Fairgrounds in beautiful Grass Valley.
"Gold! Rush to the Fair" is this year's theme and we have five days of excitement and fun planned for Fair-goers of all ages.  The Nevada County Fair is the perfect opportunity to enjoy live entertainment, delicious food, carnival rides, animals, and exhibits – in a community-friendly environment and at affordable family prices!
Live entertainment will be available every day at five different stages throughout the Fairgrounds. There's carnival rides and games, barns full of livestock, thousands of community exhibits, special contests, an Idol Competition, nightly arena events, daily demonstrations, gold panning, and food contests.  As always, Treat Street will be serving an array of delicious food and drinks – corn dogs, pasties, tacos, corn on the cob, beer, tempura zucchini, nachos, hamburgers, funnel cakes and caramel corn – just to name a few!
Long-time crowd pleasing events will soar into the Fair's arena Wednesday through Sunday, presenting thrills ranging from a rodeo to Monster Trucks to the Demolition Derby.
The Ag Mechanics Auction will be held on Friday of the Fair, and the Junior Livestock Auction will be held on Sunday, August 14.
For those interested in entering competitions and projects for judging, the Fair's Competition Handbook will be available June 1. At that time, all of the categories, as well as online entry information, will be listed on the Fair's web site at www.NevadaCountyFair.com.
Gates open each day at 10 am, and close each evening at 11 pm. Admission this year will be $9 for adults, $6 for seniors (65 and older), $4 for children 6 to 12, and free to children five years old and younger.  Additionally, active and retired military, with ID, will receive free admission.
At one of the most affordable fairs in California, take advantage of discounts and pre-sales on tickets, which begin June 1. At that time, there will be discounts on daily admission and carnival ride tickets, and the popular "Be A Kid Again" promotion, with $4 admission tickets for Thursday, will be available. Additionally, Kids Day will once again be held on Thursday from 10 am to 5 pm and during that time all children 12 years and under are admitted for free.
The Nevada County Fairgrounds is located at 11228 McCourtney Road in Grass Valley, 50 miles northeast of Sacramento, off Highway 49. For directions, event details or general information, visit www.NevadaCountyFair.com or call the Fair Office at (530) 273-6217. You can follow the Fairgrounds on Facebook at "Nevada County Fairgrounds."
Source:
Wendy Oaks
Publicist Nevada County Fair
For all your real estate needs, call or write:
John J. O'Dell
Real Estate Broker
(530) 263-1091
Email John at jodell@nevadacounty.com