This post was written by
jd
on August 20, 2009
Posted Under:
Real Estate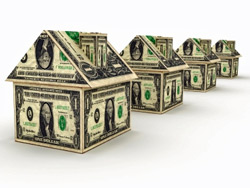 Let me try to help you make sense of the Government Home Affordable Refinance program. Believe me it can be very confusing.
Under the federal government's Home Affordable Refinance program the plan is confusing and confounding. For example, under the program, lenders are supposed to refinance loans with mortgage insurance. But they are evasive about whether they will.
Another example: Last month, Fannie Mae and Freddie Mac announced that they would refinance mortgages at up to 125 percent of current market value. Sounds great — but borrowers will have to wait.

Background: In February, the Obama administration announced the Making Home Affordable initiative to prevent foreclosures. A major part of the plan is the Home Affordable Refinance program, or HARP. It's designed to let homeowners refinance, even if they owe more than the house is currently worth because of a decline in property value.
Initially, the Home Affordable Refinance program was set to allow people to refinance for an amount up to 105 percent of the current value of the home, as long as the mortgage was owned or guaranteed by Fannie Mae or Freddie Mac. Last month, that upper limit was raised to 125 percent, meaning that someone could refinance for $125,000 on a house whose appraised value has plunged to $100,000.
But things haven't turned out as planned. The Obama administration had expected up to two million homeowners to take advantage of the refinancing program by its expiration date of June 10, 2010. But four months into the 16-month program, about 13,000 refinances had been completed, meaning that it was on track to help 52,000 homeowners, or about 1,950,000 homeowners shy of the administration's goal.
With that as a backdrop, the following is a list of misconceptions that homeowners have about the refinancing program and what's really going on.
Misconception: If your mortgage is owned or guaranteed by Freddie Mac, you have to refinance with the current servicer.
The reality: From the outset, Fannie Mae's policy was to let homeowners switch to another lender if they wanted to. But Freddie Mac required borrowers to stick with the current servicer.
Now Freddie has quietly changed its policy. Homeowners with Freddie-owned mortgages will be able to refinance with the lender of their choice. Freddie will begin taking delivery of these switched-lender refis beginning Sept. 1.
Misconception: All mortgage servicers are required to participate in the Home Affordable Refinance program.
The reality: Mortgage companies don't have to participate. One holdout is Provident Funding. The Burlingame, Calif., lender was the eighth-largest mortgage originator in the first quarter of 2009, according to National Mortgage News.
Provident's no-refi policy has been problematic for customers with Freddie-owned loans because of Freddie's initial ban on refinancing with another lender. Searching for a loophole, I found a section of the Making Home Affordable Web site that read, "In addition, all servicers for loans owned by Fannie Mae and Freddie Mac are required to participate." But that sentence referred to the mortgage modification program, not the refinance program.
Misconception: Fannie and Freddie now allow refinances for up to 125 percent of loan to value.
The reality: Not yet. Both companies allow refinances right now of mortgages of up to 105 percent of the home's value. Here's where it gets complicated: Fannie and Freddie have different start dates for when they'll begin buying mortgages with loan-to-value ratios between 105 percent and 125 percent.
Fannie Mae says it will start buying those higher-LTV loans beginning Sept. 1. Freddie Mac says it will start buying them Oct. 1. Lenders could process and close those loans now if they wanted to, but they don't want to. They'll wait until Fannie and Freddie are buying those loans.
Misconception: Under the Home Affordable Refinance program, lenders are refinancing loans with mortgage insurance.
The reality: If major lenders are doing refis of loans with mortgage insurance, they're being discreet about it. From what I understand, none of those big lenders is refinancing loans with mortgage insurance.
A Wells Fargo spokesman replied: "We are not offering HARP refinances to borrowers who have mortgage insurance on their existing loans at this time. Unfortunately, I'm not able to provide any insight as to when we may be able to do so."
Bank of America has implied that it will refi insured loans "as systems become operational." Other lenders have been tight-lipped about whether they will refinance loans with mortgage insurance at all.
When the Obama administration promised to let people refinance their home loans but keep the same mortgage insurance policy, it was telling the insurance industry to do something that it's not set up to do. It's akin to selling your old car and buying a new one, and expecting the auto insurer to transfer the policy without changing one word of it.
The mortgage insurance companies say they have the procedures in place. The lenders are saying almost nothing. Neither side is pointing fingers at the other. Without a blamefest, it's hard to discern what's going on.
It is very slow going folks, but I truly believe we will see some light at the end of the tunnell. Let me help you save your home and get you through this endless red tape….
Source Sarah O'Neal, Attorney