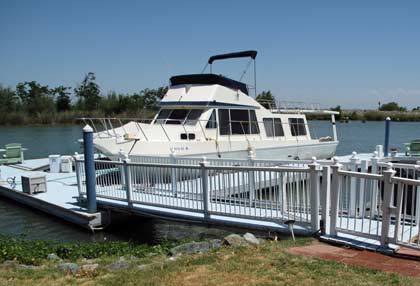 Why a trip to the California Delta? Well last summer Judy and I were at "the Taste of the Delta", food, wine and vendors all together in a one day festival. At the conclusion of the event there was a raffle, and we actually won! It was a two night stay at the Delta's Dockside Boatel, along with two massage treatments. So we finally got around to scheduling the trip last week. After a day exploring the area on the way from Sacramento down Hwy 160 from Sacramento, and only getting lost only a time or two, following the "Delta Loop" near the intersection of Hwy 160 and Hwy 12, we arrived at our destination.
Called the "Easy Breezy" she is a 40' Bluewater yacht, which remains dockside as a "boatel". If you had a boat you could come in to the "boatel" from Stockton, Oakland or Sacramento, as there is plenty of tie-down space (up to 22 feet) on the same dock. It is located on the calm Georgiana Slough of the Mokelumne River. But, since we were driving, we came on board from the land. It is a very open floor plan, sleeping at least 6 or 7, and the two of us had lots of space. There is a full galley, the head and private stateroom below, a spacious cockpit, and fly bridge sundeck above. A great breakfast was included, both days, and the rest of the time we just sat and watched the world go by (a few boats), and lots of birds, fish and insects. Water, water everywhere, all very calming and relaxing. If you are interested in trying the "Easy Breezy" yourself, call Sue at (510) 919-2197.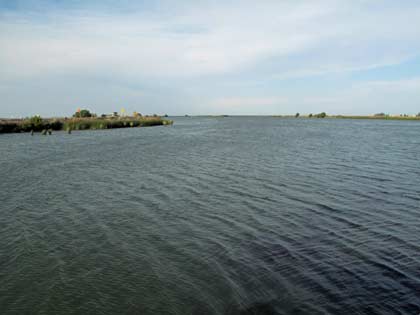 Oh and we highly recommend the massage treatment too – just a few miles away in Isleton, with Pam Roum Certified Massage Therapist, (cell 209-366-4474) was wonderful. An interesting note is that Pam is also certified to do equine massage, if your horse is also in need of some relaxation! Isleton is a cute town too and we ate at Rogelio's the Chinese – Mexican – American – Seafood – Italian restaurant in town! If you can't find something on that menu to please everyone in your family it will be truly remarkable, with the complexity of the menu available.
The California Delta is a unique spot, in many ways not changed from the pioneer days when gold hunters and adventurers trekked to the ports of Sacramento and Stockton via river steamers. Today instead of paddle wheelers and steamers there are thousands of pleasure boats. There is a certain remoteness to the Delta, not easy to find elsewhere. There are 55 major Islands, and 1,000 miles of navigable waterways. I am sure we would have gotten a better feel for the Delta if we had been able to rent or had a boat, but it was a great mid-week getaway all the same!