This post was written by
jd
on May 14, 2009
Posted Under:
Real Estate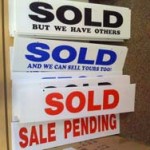 There are further indications that we may have hit the bottom of the housing markets. Real estate sales continue to go up in Nevada County with pending sales in the 200's range. At the beginning of the year, the pending sales were below the 150's. Sacramento saw a decline in inventory for April which is unusual. According the Sacramento Bee, sine 1994, only four years, 1995, 2003, 2008 and 2009 have seen for sale inventory fall from March to April. It also appears to have happened nationally this year.
According to PR Web, listing prices are increasing in California:
"Listing prices rose at the fastest rate in the California markets with San Jose up 3.7%, Los Angeles up 3.2% and San Diego up 2.8% in April. Prices in 18 markets are now showing three months of sequential listing price increases. Asking prices fell at the fastest rate during April in Las Vegas followed by Salt Lake City – down 3.8% and 2.6% respectively.
"Broadly rising asking prices in this difficult economic environment demonstrate the powerful effect of seasonality in the housing industry," said Stephen Bedikian, partner and research director for Real IQ. "We expect to see continued strength during the next few months of the spring selling season fueled by historically low mortgage rates. We won't be able to call a bottoming of the market until we see stability continue into the seasonally weak fall and winter months."
Inventory levels decreased in a majority of major markets with inventory falling in 15 of 26 markets. Across the 10-City Composite Index markets, inventory fell by 1.5% in April and was effectively unchanged during the most recent three-month period. Inventory grew by the largest amount in Boston up 6.3% followed by Austin up 4.9%. Inventory fell by the largest amount in Phoenix and San Francisco where it contracted by 11.0% and 7.1% respectively."
So no one is predicting that we are at the bottom of the market.  All I know is that sales in Nevada County are going up, and prices are starting to rise.