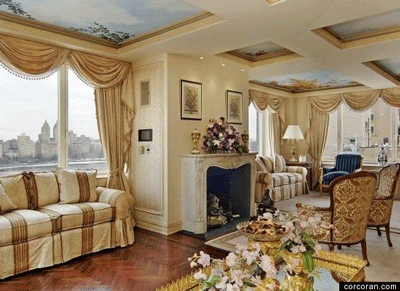 Rush Limbaugh railed against proposed New York tax hikes last year, and vowed to leave the city for good. It took a little while, but Limbaugh has now unloaded his ritzy Manhattan condo for about $11.5 million, the Wall Street Journal reports.
Although Limbaugh wanted $12.95 million for the Upper East Side apartment, he still comes out ahead on the deal. The conservative talker paid less than $5 million for the place in 1994.
Limbaugh hosts his top-rated radio show primarily out of Palm Beach, Fla., where he lives full time on a palatial beachfront estate. But Limbaugh occasionally treks to New York, where several of his staffers work. These days, Limbaugh's fill-in hosts are more likely to use the New York studio.
"Basically I go to New York now for hurricane relief, whenever a hurricane hits," Limbaugh said on his show in March 2009.  "No other reason to go there.  Well, sometimes I visit the overrated staff, but it would be cheaper to fly the staff down here to visit me than to pay these stupid tax increases!"
Even if Limbaugh traveled north only for hurricane relief and staff visits, he had a nice place to crash in the city. The Fifth Avenue spread includes four terraces, double living room, large media room and Central Park views, according to Corcoran's real estate listing.
No word on whether or not Limbaugh will also make good on his threat to flee the country to Costa Rica for medical treatment  if the health care bill passes. It is said after he made the statement that he clarified saying he would go to Costa Rica for health care. I guess he may want to go there for the following reasons:
"Fact: Life expectancy in Costa Rica for men is 76 years and for women 79.8 years, both longer than in the USA. Also the infant mortality rate is a lot less in Costa Rica in comparison with the USA. The UN (United Nations) has ranked Costa Rica's public health system within the top 20 worldwide and the number 1 in Latin America!
With a network sponsored by the government with 29 public hospitals and more than 250 medical clinics throughout Costa Rica, the Social Security System (CCSS) has the primary responsibility for providing health services at low costs to the Costa Rican population. Not just available for Costa Ricans, the CCSS also provides low cost medical service to any foreign resident or tourist. Foreigners who live in Costa Rica with a residence can join the CCSS by paying a small monthly fee or another option would be that they can buy an inexpensive health insurance from the Insurance Company (INS) which is owned by the State valid with over 200 affiliated doctors, hospitals and pharmacies.
The hospitals and doctors in Costa Rica have the latest equipment, and the laboratories are simply perfect. You can feel secure having most operations here in Costa Rica without having to return to the U.S. or Canada. Most operations, such as surgical procedures are a lot cheaper here! A quick example, a heart bypass costs about 1/3 of what you would pay in the USA and the professionalism is the same or better."  Source: Century 21
You can draw your own conclusions as to why he wants to go there.