This post was written by
jd
on January 12, 2010
Posted Under:
Entertainment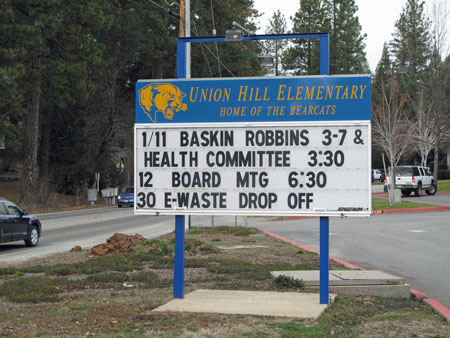 By John O'Dell
I had to do a double take on this one. Driving to Grass Valley on the Colfax Highway I saw this school sign. It appears that the  Union Hill Elementary School is serving ice cream, and holding a health committee meeting at the same time! Tomorrow they're having a board meeting.  Wonder if they are going to talk about why the kids were hyper active with a sugar high from the ice cream on January 11? Or maybe the health committee is doing an experiment on serving kids sugar and fat and seeing what that does to their grades?
Just for fun, here's a 4 once serving of Baskin Robbins chocolate ice cream:  22% fat, 11% sugar, no vitamins.
Serving Size 4 oz
Amount per serving
Calories 260
Calories from Fat 0
Total Fat 14g
22%
Saturated Fat 0g
0%
Cholesterol 0mg
0%
Sodium 0mg
0%
Total Carbohydrates 33g
11%
Protein 0g
Vitamin A
0%
Vitamin C
0%
Calcium
0%
Iron
0%
* Percent Daily Values are based on a 2,000 calorie diet.
Source: Baskin Robbins website
So what do you think?
John O'Dell
Real estate broker -Residential Homes & Land
General Contractor
Civil Engineer