This post was written by
jd
on July 4, 2009
Posted Under:
Real Estate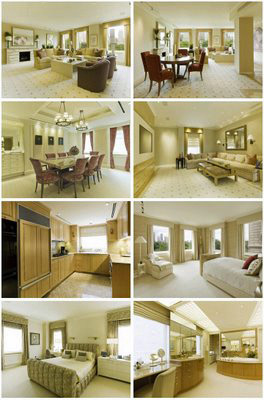 The legally blind billionaire, Steve Wynn has put his 3,500 square foot apartment on the market for a paltry sum of $25,000,000. With 2 bedrooms, 3.5 bathrooms, master bedroom, formal dining room and library, with a re-design that created two luxurious his and her bathrooms.
Located on the seventh floor on Fifth Avenue, they bought it in 2001 for about $7,000,000. They must think that real estate values have increased more than three fold since they bought it. It's too bad that the Las Vegas based casino king Steve Wynn may soon be divorcing his wife Elaine and has found someone else.
Previous reports reveal that in July of 2005 the Wynn's sold their 12,162 square foot mansion located on 4.6 acres in the Shadow Creek Golf Course for around $15,500,000 and then bought a private villa at the Wynn Las Vegas. However, there are six private villas at the Wynn Las Vegas not available to the public and recent reports indicate one is undergoing a renovation. Thought on that is that Steve Wynn is having it being remodeled for his new home.