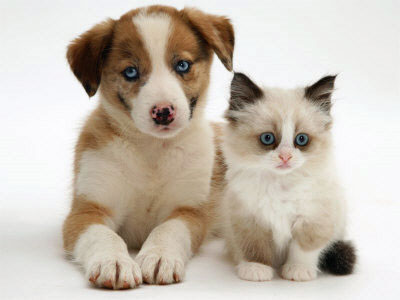 by Lisa J. Lehr
Ah, spring! The weather is warming up, it's green everywhere you look, and the animal shelter is bursting with puppies and kittens.
They're so cute! Who doesn't love warm, fuzzy puppies and kittens? It's positively un-American not to love puppies and kittens!
The problem with puppies and kittens isn't that they aren't inherently delightful; it's that we have way too many of them. While the Nevada County Animal Shelter is a remarkable example of a nearly-no-kill shelter, the national statistics on euthanasia are shocking and too depressing for me to quote here. Let's just say that any joy a mommy cat or dog could possibly feel at the birth of her children would be completely obliterated if she could know the overwhelming odds that her children would soon end up dead.
What are the arguments in favor of letting your cat or dog have babies? Let's see…
"It would be nice for her to have babies once."
"It'll be a learning experience for my children."
"I always find homes for them!"
To confront these silly arguments one at a time: cats and dogs won't care if they never have children. They lack the pre-frontal cortex of the human brain, where long-term goals reside. Animals don't dream of being surrounded by grandpuppies and grandkittens in their golden years. That's a purely human trait.
You want a learning experience for your children? Take them to the animal shelter and show them all the doggies and kitties no one wants. Tell them what will happen to them, and that this is because some people don't spay and neuter their pets.
So you always find homes for them. Okay, suppose you find nice homes for those four adorable kittens or seven precious pups. That's four kittens or seven puppies already at the shelter who will now be euthanized, thanks to all those people who let their pets reproduce.
Unless you're a licensed breeder, you have no business letting your pets reproduce. If you don't know where to go or need financial help, contact the Nevada County Animal Shelter or any of the local rescue groups, including AnimalSave, Sammie's Friends, and Scooter's Pals.
No more unwanted puppies and kittens!
Lisa J. Lehr is a writer and copywriter as well as animal lover living in Grass Valley. She can help you promote your business with a full range of online and offline marketing pieces. A member of Empire Toastmasters, she's available to speak to your business or professional group. Visit her website www.justrightcopy.com for more information, opt in for a message series, and receive a free Marketing Guide.
Lisa is one of our local contributors to this blog, let me know if you are interested in being part of this blog.
—
Lisa J. Lehr
I write words that make you money–just ask me how.
www.justrightcopy.com
Visit my website and sign up for my fr~ee marketing tips.
New! No~cost Marketing Guide now available at my website.
Lisa is one of our local contributors to this blog, have anything
you would like to share with us, let me know……..John J. O'Dell