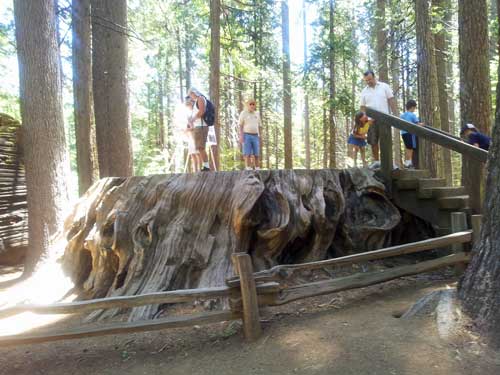 On Wednesday John, I and my family made the drive to Calaveras Big Trees State Park, a bit further away, but well worth the drive. This area has been a major tourist attraction since 1852, when the existence of the giant sequoia trees was first widely reported, and is considered the longest continuously operated tourist facility in California. The area was declared a state park in 1931 and now encompasses 6,498 acres in Calaveras and Tuolumne Counties.
We walked the North Grove trail which contains about 100 mature giant sequoias (also called Sierra redwoods); the South Grove, about 1,000. Sequoias are the largest living things to ever exist on the earth. The fossil record of sequoias dates back 180 million years to the age of dinosaurs, and individual trees can live to 3,000 years old.
The North Grove includes the 'Discovery Tree' noted by Augustus T. Dowd in 1852 and felled in 1853, leaving a giant stump which is the only remainder of the tree. It measured 24 feet (7.3 m) in diameter at its base and was determined by ring count to be 1,244 years old when felled. People used to dance on its top, and at one point it was turned into a school house.
However, the largest tree was believed to be the Mother of the Forest, which was cut down in the mid-nineteenth century and dwarfed any tree alive today. One of the most interesting things we learned on the tour is that although it is the largest tree, its seeds are the smallest, resembling a flake of oatmeal, with 6000 weighing just one ounce!  And we learned that although the trees are so huge, their root system only goes 6 to 8 feet under the ground, but a large tree can have roots spread over up to one acre of land.
There are two different redwoods in California, the Sierra Redwoods, the worlds LARGEST living things, in this location and the Coast Redwoods, the worlds TALLEST living things. These trees are related, but differ in many ways. One difference is that the Sierra Redwoods can only be reproduced through seeds, while the Coast Redwoods can also reproduce by sprouting from their roots , burls and stumps.
For all your real estate needs
Email or call today:
John J. O'Dell Realtor® GRI
Civil Engineer
General Contractor
(530) 263-1091
Email jodell@nevadacounty.com
DRE#00669941