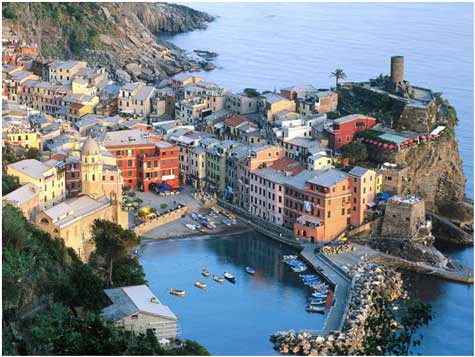 History
Vernazza is one of the five towns that make up the Cinque Terre region in Italy. Vernazza is the fourth town heading north, has no car traffic and remains one of the real "fishing villages" on the Italian Riviera, with the only proper harbor of the five towns. Vernazza was recognized as a fortified town dating back to the year 1080, and is located in the province of La Spezia, Liguria, northwestern Italy, the "Italian Riviera".
Vernazza's name is derived from the Latin adjective verna meaning "native" and the indigenous wine, "vernaccia" ("local" or "ours). Over the next two centuries Vernazza was ruled by the Republic of Genova, and was vital in Genova's conquest of Liguria, providing port, fleet and soldiers to the battle.
httpv://youtu.be/-vA2-9VyMcY
Video taken by John O'Dell in a tour of Italy with Judy Pinegar
The first documented presence of a church dates back to 1251, with the parish of San Pietro sited in 1267. First reference to the Church of Santa Margherita d'Antiochia of Vernazza occurs in 1318. The church was expanded and renovated over the course of the 16th and 17th centuries, and thereafter the octagonal bell tower was erected.
In the 1800s, after a long period of stagnation, Vernazza improved wine production, enlarging and creating new terraced hillsides. The result was a revitalization of Vernazza's commerce. Also at this time the construction of the Genova-La Spezia rail line began, putting an end to Vernazza's isolation. Partially due to this transportation system, the population of the town increased by 60% in just a few years.
In 1997, the Cinque Terre was recognized as a World Heritage Site by UNESCO and in 1999 the National Park of the Cinque Terre was born. The main source of revenue for Vernazza is tourism, but wine and olive oil are also produced.
Tomorrow: The Disaster
Article by Judy J. Pinegar – Published in Corriere della Valle
Please help to keep this blog going
Let us Sell or help you buy your new home or land
John J. O'Dell Realtor® GRI
O'Dell Realty
(530) 263-1091
Email John
DRE#00669941