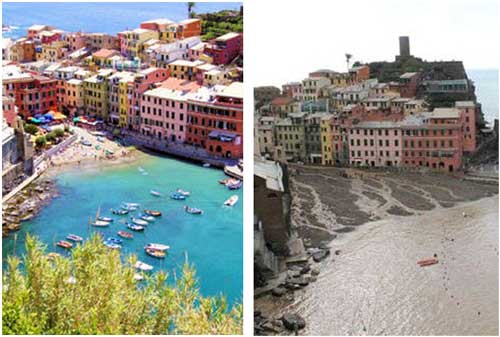 Before and after photos.
The Disaster:
On October 25, 2011, Vernazza was struck by torrential rains, massive flooding and mudslides that left the town buried in many meters of mud and debris, causing over 100 million euro worth of damage. Three long time residents were killed in the flooding and mudslides that occurred on October 25, 2011, their bodies were found on the shore near St. Tropez, France.
People caught in the lower levels of the town had to flee upward in apartment buildings and private houses to get away from the torrential mud and water, gas leaks also broke out in the town, making people fear from the chance of fire as well as drowning. To read many other heartbreaking and heartwarming stories by residents and tourists caught in Vernazza on that day go to: Save Vernazza
On October 26, the tourists and townspeople were forced to walk through Vernazza at the height of the second story windows, over 4 meters/13+ feet of mud and debris to be evacuated by sea. The town was in a state of emergency, although repair work began immediately.
December 3, 2011: This day's posting on the Save Vernazza Website reads:
"The only thing 'normal' in Vernazza these days is the train schedule. She is a town without her people… Imagine Vernazza without a single soul in it. If she were a person I'd say she's lonely. Feeling abandoned. And I often think of her this way. Like a living being she has a life, a soul, a vibrance, a presence like no other place I've been. I find myself feeling sorry for her a lot of the time. Is this strange? Somehow I don't think I'm alone in my feelings."
December 2012: On the day after the flood, Mayor Resasco promised that the whole town would celebrate the Feast of the Immaculate Conception in Vernazza. On the morning of December 8, with the "asado" barbeque slowly cooking over the coals in Piazza Marconi, the trains arrived from La Spezia and Levanto, filled with families, elderly couples and children. The elderly, many of whom had never previously lived anywhere else, walked around with tear-filled eyes, marveling at how much had been accomplished in such a short time and mourning what had been lost. The volunteers were filled with pride at their role in giving so much joy to this community. The day was filled with friendship, hugging, laughter, tears and sharing stories. Talk of hope filled the air, as people began to envision a renewed Vernazza.
Tomorrow: The Rebuilding
Article by Judy J. Pinegar – Published in Corriere della Valle
Related articles
Please help to keep this blog going
Let us Sell or help you buy your new home or land
John J. O'Dell Realtor® GRI
O'Dell Realty
(530) 263-1091
Email John
DRE#00669941