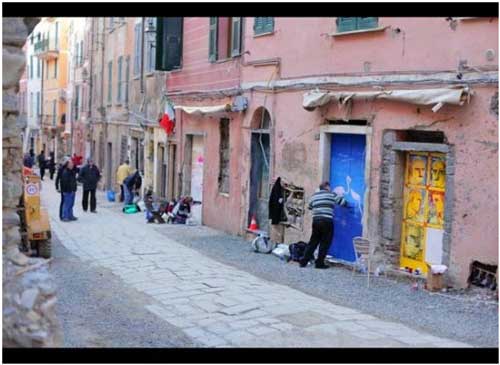 The Recovery
Vernazza's First Farmacia and Restaurant and Re-Open: On January 21, 2012 Vernazza's Farmacia (Pharmacy) reopened. By Italian law, a pharmacy is allowed no more than 90 days closure before the proprietor loses his/her license. Therefore, the work to restore the pharmacy was rushed to completion. The walls were empty and there was only a table, chair and the pharmacist, but the pharmacy was open for business!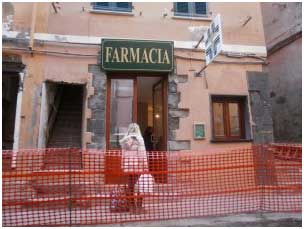 June 2012: Bars, restaurants and places to stay are open and doing business in Vernazza. Of the twenty-two restaurants, bars, pizzerias and gelaterias, only two are uncertain, or are not opening in 2012.  Of the twenty-three stores and banks only four are not open, and of the thirty-three places to stay only three are not open. Children play on the beaches again and people are shopping, eating and enjoying vacations in the town. Of course many things are still being repaired, but the pace is furious.
A blogger on the Travel Advisor Trail Updates on the Save Vernazza website said that she and her husband "hiked the 5 cities on June 25th and 26th. We did all 5 cities in one day. The hikes were beautiful. The only trail closed was between Manarola and Corniglia."

July 2012:  Vernazza has accepted architect Richard Rogers' generous donation to design and oversee the Project for the Reconstruction of Vernazza. Richard is with
Rogers Stirk Harbour + Partners (RSHP) which is an international architectural practice based in London. Over three decades, RSHP has attracted critical acclaim and awards with built projects across Europe, North America and Asia.
On his most recent visit to Vernazza, Rogers brought his friend Renzo Piano, an Italian architect born in Genoa and educated in Milan who leads a firm called Renzo Piano Building Workshop. Both architects have won the Pritzker Prize (the Nobel of Architecture) and are considered two of the world's leading architects. Together they designed the Pompido Centre in Paris.
Rogers and Piano believe that Vernazza's reconstruction should be elegant in its simplicity in order to preserve Vernazza's unique character as an authentic Italian small town.
January 2012: The removal of a million square feet of mud and debris from the main part of Vernazza revealed extensive interior damage to dozens of buildings. Plumbing, electrical wiring, phone lines, floors, walls, windows, doors, fixtures — everything will need to be replaced. Workers and machines excavated the canal that once ran through the upper town, and rebuilt the main sewer line. Next, a network of landslide barriers was built in the hills surrounding the town. Vernazza was extremely vulnerable to more flooding until this job was completed.
The doorways of small businesses along main street, Via Roma, have been boarded up since the flooding and mud slides. But on the morning of January 6, 2012, over 50 artists showed up to breathe inspiration and life back into the desolate ghost town. Organized by painter Antonio Barrani, their mission was called "Un Arcobaleno di Solidarietà per Vernazza" — A Rainbow of Solidarity for Vernazza. Each painter took a lifeless, boarded-up doorway along Via Roma and transformed it into a work of art.
More than just decorating the Via Roma, this avenue of art was designed to inspire all who love Vernazza to play a role in her recovery.
Then on January 23, 2012 the restaurant Belforte re-opened. This restaurant was above water level, high along Vernazza's waterfront, so there was no structural damage, although all services were lost. The military cooks that had provided meals for crews and volunteers were required to leave Vernazza on January 7, 2012. Now, workers again had a place to go for a hot meal and break from the work.
One Saturday in January, a train pulled up and some tourists got off, as they came down the stairs, their expressions told that they had no idea what had happened in Vernazza on October 25, 2011. Residents and workers put together on-the-spot, the first Save Vernazza Information Center.
March 2012: On March 9, 2012 Mayor Vincenzo Resasco, detailed Vernazza's strategic plan for reconstruction, and updated the progress made thus far and the plans for Vernazza to reopen for the tourist season.
Sewage: completed
Canal: includes roadwork as well as enlargement of the canal itself (enabling the canal to withstand future storms such as that of October 25, estimated to occur once every 200 years)
Landslides: project focuses on securing the slides that directly impact the canal and reconstruction of the canal banks and bed in such a way as to decrease the velocity of the water.
Water: continuing on schedule, approximately 90% of all homes with running water
Aqueduct: continuing on schedule
Electricity: continuing on schedule
Via Roma: This week, temporary asphalting of Vernazza's main street
Gas: By the end of June 2012, a temporary methane gas containment system will be in place to provide methane gas to Vernazza.
Residents and children are now playing in the square and some older residents are coming home to live. Tourists are walking the streets, restaurants are opening and on March 9 the weekly street market returned. Vernazza is moving forward…and forward with a new focus.
April 25, 2012: Travel guru and Cinque Terre promoter Rick Steves visited Vernazza and was shown the remarkable progress made in the past 6 months and the work still yet to do. All people who have read his Italian travel books know how much he loves the Cinque Tierra and Vernazza in particular. On seeing the Vernazza, he shed tears for her damage, and voiced hope for her recovery. His website has been providing continued support and coverage of Vernazza's recovery efforts. Rick Steves has plans to return soon with his crew to film a new Cinque Terre travel special. To read about Rick's day in Vernazza see his website 
Let us all hope that Vernazza will be brought back to full life and even greater beauty very soon.
Two important ways you can help:
1. Visit the Cinque Terre in 2013, or as soon as you can. This corner of Italy — especially Vernazza — needs travelers to keep their economy afloat. A family-run hotel or restaurant will not survive waiting a year or two for business to return. If you can't make it in 2013, think of what you'd normally spend during a day in Vernazza and donate that amount to one of the groups listed below!
2. Donate to trusted local relief groups.
Save Vernazza is a very active and engaged Italian non-profit organized by three American women who have lived in Vernazza for years: http://savevernazza.com/. There are some fascinating before and after shots and many other updates on the home page of the website.       

Una pietra per Vernazza is a non-profit fund set up by the municipality of Vernazza:
3. Purchase from Save Vernazza Fundraising Partners who donate all or part of the proceeds of artwork, photos and music to the recovery effort.
4. Tell Others Save Vernazza has free posters you can download, print, post and distribute to your local community center, coffee shop, library, or Italian restaurant. http://savevernazza.com/donationflyers/
Authors Note:  The Cinque Tierra town of Monterosso was also damaged in the flooding of October 25, 2011, but not as severely as Vernazza.
Article by Judy J. Pinegar – Published in Corriere della Valle
Related articles
Please help to keep this blog going
Let us Sell or help you buy your new home or land
John J. O'Dell Realtor® GRI
O'Dell Realty
(530) 263-1091
Email John
DRE#00669941
Tags:
2012
,
April
,
art
,
Cinque Terre
,
History
,
life
,
Richard Rogers
,
RSHP
,
Save Vernazza
,
Travel
,
Vernazza
,
Via Roma