This post was written by
jd
on July 6, 2009
Posted Under:
Real Estate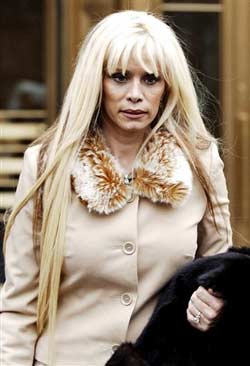 The bank has started foreclosure proceedings on Victoria Gotti, daughter of the infamous John Gottie, palatial estate on Long Island — the same used in the TV reality show "Growing Up Gotti" — saying she owes a whopping $650,000 in mortgage payments, according to court papers filed recently.
Gotti's lender, JP Morgan Chase, claims the daughter of the late Gambino crime family boss John "Dapper Don" Gotti — owes them that staggering amount after she failed to make payments starting in September 2006, court records reveal.
The bank said in court records that the mafia princess owed them $25,000 a month in mortgage payments.
The home, which Gotti once tried to sell at $4.8 million but lowered once she put it on the market this past January for $3.2 million, became known to TV viewers across the country after A&E filmed the reality show, "Growing Up Gotti" there in 2004 and 2005.
From August 2004 until December 2005, she was the star of Growing Up Gotti, an American reality television on the A&E Network. The show, which was short lived, also featured her three sons. The Smoking Gun launched a parody of sorts entitled Blowing Up Gotti, which consisted of family visits to John Gotti while he was in prison that prison officials routinely taped.
A&E faced exceptional criticism for the show. Some viewers complained that A&E was showcasing a family living in luxury that was purchased by blood money made by her father, John Gotti. They felt the network was glorifying organized crime. Many have also complained about the foul language used on the show, as well as the dysfunctional relationship between Victoria Gotti and her sons. Film.com said about the show: "Victoria Gotti has the warmth of an ice pick and her sons the charm of, well, thugs."