This post was written by
jd
on May 17, 2009
Posted Under:
Real Estate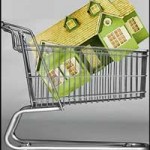 Housing affordability among first-time Californian home buyers in Q109 improved more than 20 percentage points from the year-ago period, according to survey results released Thursday by the California Association of Realtors (CAR).  This is good news for us here in Nevada County. The more people who can afford to buy a home, the sooner home prices will stabilize.
Home prices became out of reach for over 86 percent of the people in California, when real estate was selling so fast and furious.  The only reason home sales kept going was the easy lending practices. Buyers who really couldn't afford a home were able to get home loans, resulting in the large number of foreclosures that we have at the present time.   Now we are getting back to a "real" home market.
The data suggest the potential for a significant increase in first-time buyer presence on the market, although it's unclear how many of these households will actually participate. The increased housing affordability indicates substantially lower home prices, likely affected by foreclosure sales in the state.
CAR found 69% of California households could afford to purchase an entry-level home in Q109, compared with only 46% in the same quarter last year.
The median entry-level price for a home in California was $213,040 in the first quarter, making the estimated monthly payment $1,270. A California household needs a minimum $38,090 yearly income to purchase under these circumstances, CAR said. These households typically purchase a home equal to 85% of the prevailing median price.
Californian households might enjoy some new affordability due to the state's high foreclosure sales volumes. A monthly report released this week by ForeclosureRadar saw foreclosure notices ease by 18% in the state during April, while sales at auction rose 35% overall and a record number of properties sold at an average 28% below the estimated market value.
Areas like California with high volumes of so-called "distressed" sales — which traditionally fetch 20% less than non-foreclosures — also tend to show the first signs of recovery, National Association of Realtors economist Jed Smith tells HousingWire for the upcoming June magazine issue.
"We've seen some phenomenal strength in California, Arizona, Nevada and Florida recently, largely because prices in those markets got bid down to such a point that the first-time home buyer and probably many others have seen a real opportunity there…to come back into the market," he says