Winter is finally here. I live in Cascade Shores and I'm guessing that I've had about two to three of snow at my house. To go to town from the Shores you have a choice of either going on Banner Quaker Hill Cross Road with a thirty one percent grade or going on Pasquale Road. Banner Quaker Hill is a nerve racking experience if it's icy. I've gone up the grade only to start sliding backwards in my four wheel drive, picking up speed and finally hitting a snow bank. This turned my truck 180 degrees and headed us down the hill at a nice clip. (Didn't hurt the truck, it's a Chevy!) I've also gone downhill on the grade only to start sliding and skiing down hill with little control of where the truck actually goes.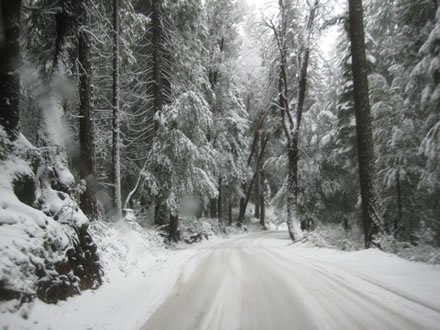 Pasquale Road Winter of 2007
Pasquale Road is icy and a little narrow in some areas, but it's a beautiful drive. The County does a great job of snow removal to make it easy to get to town. The picture above shows some of the natural beauty of our area. I enjoy our area so much because we are lucky to have the four seasons here, with a little snow, not too hot a summer and beautiful spring and fall.
By the way, real estate in Nevada County is not too bad. In 2006, 983 homes were sold in Nevada County. In 2007, 862 homes were sold. That's 121 fewer homes, but real estate has not died. The hardest hit areas, such as Fresno and Lincoln are areas in which developers over built large tracts of homes.
In our area, we do not have that problem. We live in a very desirable County, with no excess of inventory. We have very restrictive land use ordinances limiting new growth to almost no growth at all.
On the 11th of January I'm off to Buenos Aires for a month. I was born there and have duel citizenship. Buenos Aires is known as the Paris of South America and is a beautiful city. The first week I will be in a Spanish immersion class, living with a family so that I can regain my native language. I came to the United States when I was six and quickly learned English and lost my Spanish. My mother always said I would be sorry for not keeping up on my Spanish and of course like all mothers she was right. I'll be posting pictures of my travels, so stay tuned.
John O'Dell is a licensed civil engineer, land surveyor, general contractor and real estate broker