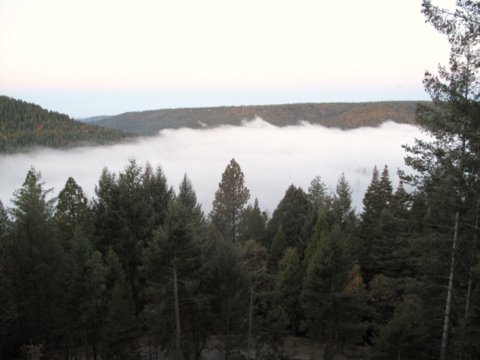 November 15, 2009
I took this picture from my deck yesterday looking at Scotts Flat Lake. It has its own eco-system and generates a fog over itself. The nice thing is my house is at 3,700 elevation and the fog usually never gets all the way up here.  Wish I could say the same thing about snow sometimes.
A couple of weeks ago I saw a black bear scooting across the road at 8:30 at night. Fortunately, he just crossed the road and we missed each other. Not so fortunately for my son, he was traveling along the same road and hit a black bear a couple of days ago.  He doesn't how badly hurt the bear was, but he has a large dent on the left side of his car. I've heard that there has been a high rate of deaths of deers and bears this year from car accidents, be careful, espcially at night.
If you have been reading my blogs, you know that I bought out my franchise and am no longer Realty World, The O'Dell Realty Group.  I've gone back to O'Dell Realty. It sounds simple, but I've had to order new signs, inform the Department of Real Estate, change checking accounts and it goes on. This coming week everything will be in order and I'm back to your local home town realty.
In other news, California Land Title Company, in business in Nevada County for thirty eight years closed its doors Friday.  The recession has affected all of the title companies, downsizing their offices and the number of employees.