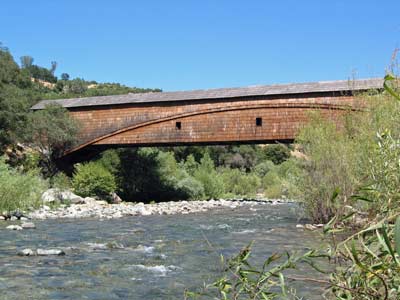 To contact the Bridgeport State Park call (530) 432-2546
One of the most beautiful bridges in Nevada County, if not in all of the Gold Country is the Bridgeport covered bridge on the South Fork of the Yuba River in the South Yuba River State Park.
The bridge was originally constructed in 1862 and was part of the Virginia Turnpike Company Toll Road that served the northern mines and traffic to and from Virginia City and the Comstock Lode in Nevada. The bridge is 230 feet (70 m) long. Bridgeport Bridge, or "Wood's Crossing", is the longest single span covered bridge in existence. Bridgeport Bridge was built as part of a toll road. Toll roads were authorized by the State of California in 1853 as a means to start construction of much needed roads by private companies.
On October 20, 1997, there was a flood on the South Yuba River that almost took the bridge out.  It was 135 years old at the time and workers put in 10 hour days making repairs on the landmark wooden bridge.
More than a century ago, pioneers and miners paid a $2 toll to drive their wagons and horses across a covered wooden bridge over the South Yuba River at Wood's Crossing. Now, traffic is limited to pedestrians only and there is no toll.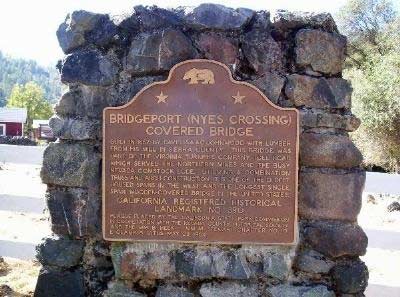 The historical plague dedicated to the bridge which reads:
Bridgeport (NYE's Crossing) Covered Bridge
Built in 1862 by David Issac Johnwood with lumber from his mill in Sierra County, This Bridge was part of the Virginia Turnpike Company Toll Road which served the Northern Mines and the busy Nevada Comstock Lode.  Utilizing a combination truss and arch construction, it is one of the oldest housed spans in the west and the longest single span, wood covered bridge in the United States.
California Registered Historical Landmark No. 390
Plaque placed by the California State Park Commission in cooperation with the Nevada County Historical Society and the Wm. B. Meek-Wm. M. Stewart Chapter No. 10, E Clampus Vitus, May 23, 1964
To contact the Bridgeport State Park call (530) 432-2546